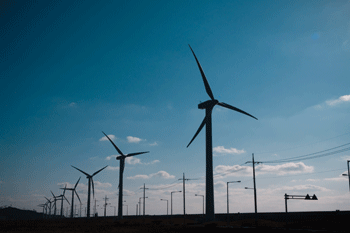 Wind turbine developers will be required to consult local communities under new measures being put before Parliament.
Expected to come into force before the end of the year, laws will require developers seeking planning permission for onshore wind projects to gauge the opinion of local residents before submitting a formal planning application.
Rules will apply to developments involving more than two turbines or any turbine exceeding 15 metres in height.
According to the Department for Communities and Local Government, many people currently feel cut out of turbine development and forced to consider plans they had no part in shaping.
A recent call for evidence from the Department of Energy and Climate Change found the public desired a greater dialogue with on-shore wind turbine developers.
Communities secretary, Eric Pickles, said: 'From day one communities should be centre stage in crafting plans that affect their lives instead of having them forced upon them.
'Ensuring communities have a greater say at an early stage allows developers to consider much earlier whether to pursue a proposal and what changes they should consider before putting forward formal plans. Our changes allow people's views and other impacts to be taken into consideration much earlier.'
Energy minister, Michael Fallon, said: 'Wind is an important part of the UK's energy mix, and both government and industry agree that these proposals will ensure that new turbines are appropriately sited.'