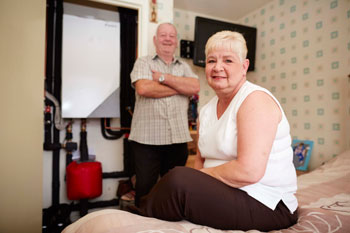 Hundreds of homes across Greater Manchester will become the first in the world to trial new green technology designed to reduce energy bills.
The smart energy system, developed in Japan, uses air source heat pumps that act as reverse air conditioning, compressing air to generate heat and hot water.
During times of peak demand the system switches to using stored energy in order to take pressure off the National Grid.
Some 600 homes will have their existing heating systems replaced as part of a £20m deal between Japan's Department of New Energy and Development Organisation and the Greater Manchester Combined Authority.
Half of those benefitting from the technology live in council homes in Wigan. 'We know high energy bills are a major concern for our tenants,' said Janice Barton, chief executive of Wigan and Leigh Homes. 'This new technology will hopefully lead to cheaper bills but also produce energy in a cleaner and greener way.
'This builds on the work we have already been doing using energy saving equipment and green energy generating technology such as solar panels, which has resulted in thousands of homes benefiting from lower bills.'
Lord Peter Smith, chair of the Greater Manchester Combined Authority and Leader of Wigan Council, said: 'Keeping residents warm and comfortable while cutting our carbon emissions is an important strategic goal for Greater Manchester and this partnership represents a real step forward, one that could offer a model for many more communities in the future.
'Combining advanced technologies from our Japanese partners with local academic expertise, as well as support from our housing companies and Electricity Northwest, we've pulled a winning team together to grapple with the challenge of retrofitting energy efficient heating into our housing stock.'