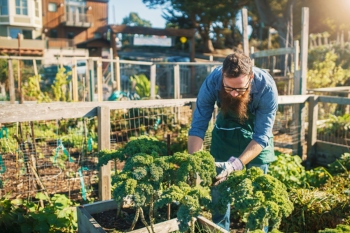 Like grey houses with the odd green lawn and pot plant. That's how the large majority of towns and cities in the UK today could be characterised.
As the number of people living in cities grows, more land is being designated for use as residential and commercial infrastructure, and the result is an increasingly patchy distribution of small and disconnected green spaces where 'urban ecosystems' can thrive.
But it's just these ecosystems that are critical for delivering the vital goods and services that help keep urban society healthy, sustainable, and resilient. The design challenge going forwards will be for urban developers to find new and innovative ways of maximising opportunities for green space in a context which is becoming ever greyer: and that includes thinking more seriously about the role of urban farming.
Over the past decade, green infrastructure has been adopted by local authorities as a means of providing areas of natural and semi-natural green space within built grey infrastructure. For some cities, this has meant designating spaces for plazas and pocket parks, protecting cemeteries, and creating sports pitches. Where space is at a premium, designers have looked for 'hybrid' solutions that integrate greenery into or on grey infrastructure, such as green walls and roofs. The benefits are clear: not least the delivery of key ecosystem services such as carbon sequestration and storage, local climate and air quality regulation, maintenance of biodiversity, nutrient cycling, and the cultural benefits that are afforded including recreation, enhanced health and well-being, opportunities to celebrate heritage, and one's 'sense of place'.
Food production, however, has often been overlooked as not contributing to green space in the same way. That urban agriculture can help put food on the plate has always been clear. But there have been relatively few studies that have assessed the wider ecosystem benefits of growing food in towns and cities. New research brings together evidence from data on green infrastructure and urban agriculture sites in cities around the world. The take-home message from the research is that growing food can deliver almost as many ecosystem benefits as non-edible green infrastructure — with the bonus of also supporting the urban population with a locally sourced, sustainable and resilient supply of food.
The UK's reliance on imports has been growing in recent decades. Currently, 84% of fruit and 46% of vegetables consumed in the UK are imported. Future pandemics or other crisis events could threaten this supply of food from abroad, not least the impacts caused by climate change such as water scarcity, and growing land degradation. For local authorities and land planning agencies, our research highlights the roles that urban agriculture can play in helping to resist these shocks, as well as the diverse range of added value it can provide for both the environment and society.
Local authorities and land planners need to think creatively about how to weave food growing into the fabric of urban life. They have to pay more attention to available land within their districts and what the potential is for food production, with more monitoring and measurement. With one in eight UK households having no access to a garden, local authorities may need to consider the potential of other types of private and public space. Some innovative examples of food-growing — on rooftops, walls, and even underground — already exist.
For example, micro-sites are being used for farming by Edible Bristol and Growing Communities project in London; Manchester has a network of local growers, Veg People; the Growing Underground project is being run at Clapham tube station. There's an important role here for local government in acting as a spur and focal point for assembling these kinds of local communities of practice, involving landowners, architects, and volunteers to design and develop efficient and maintainable food growing schemes.
Ways of life are changing and that means more opportunities for exploiting changes in land use. The upsurge of flexible working, park-and-ride offers, pedestrianisation schemes, e-commerce, and online retail, the demand on certain types of urban space such as multi-storey car parks and office blocks has fallen. Up and down the country, an opportunity is emerging: an opportunity to redesign and reconfigure under-utilised and vacant urban spaces for urban agriculture, and by so doing, pave the way for a healthier society and a healthier ecosystem.
Perhaps, in time, our towns and cities can become more like green houses with some grey furniture.
Dr Dan Evans, 75th Anniversary Research Fellow, Cranfield Soil and Agrifood Institute, Cranfield University. The research, part of the UKRI Global Food Security Programme 'Rurban Revolution', has been published in the journal Ecosystem Services.