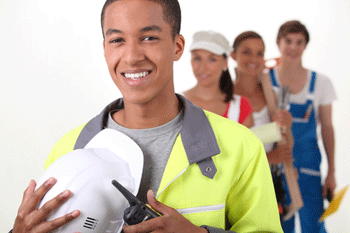 London boroughs would have to increase their creation of apprenticeships by more than 570% to meet 'unrealistic' Government targets, borough representatives warn.
The capital's boroughs have created 4,834 new apprenticeships through direct recruitment since 2009—an average of 690 per year.
However, London Councils has warned Whitehall's proposals for public sector apprenticeship targets would mean boroughs would need to deliver 4,674 annually—an increase of 577%.
The Government's apprenticeship target requires every public sector organisation to ensure that 2.3% of their employees are apprentices from April 2017.
London Councils, which represents all 32 boroughs and the City of London, characterised this target as 'unrealistic' and said a more achievable aim should be set that allows councils to count apprenticeships they generate through their supply chains.
They also said the target should not include grant-maintained local authority schools as councils are not responsible for recruitment activities or decisions at these schools.
Cllr Peter John, London Councils' executive member for children, skills and employment, said: 'London boroughs are committed to increasing apprenticeship starts and opportunities and have a strong track record of supporting – and exceeding – apprenticeship targets.
'But in order to capitalise on this, any target must be based on appropriate data and supported by all parties.'
'We support the government's plans to encourage apprentice recruitment, but it is unfair to include school employees in borough workforce head counts when calculating the apprenticeship target,' Cllr John continued.
'This doubles the target for councils, yet they cannot influence schools to create more apprenticeships. An unrealistically high target risks undermining the government's ambition to create opportunities that benefit employers, apprentices and the economy.'
Cllr Peter John also voiced his concerns at proposals to abolish the Area Cost Adjustment, which ensures London receives extra cash to reflect the higher costs of providing training there.
'It is also vital that the current Area Cost Adjustment provided to London and the South East is maintained when calculating new funding bands. Without an adequate ACA, London would not be able to access the same level of resources as the rest of the country or provide an equivalent level of service,' he said.
'Wages are much higher in London, driven by the cost of living and particularly the higher cost of accommodation in the capital, so it is essential that the area cost uplift is maintained.'