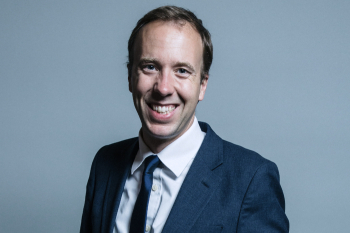 Health secretary Matt Hancock has said the Government is committed to supporting local councils in improving health locally through 'innovation, communication and community outreach.'
Mr Hancock is this week launching the Department of Health and Social Care's new Prevention vision, which will focus on preventing illness rather than simply treating it.
In a blog post for Public Health England, Mr Hancock wrote his new vision prioritises investment in primary and community healthcare and emphasises the importance of supporting councils to take the lead in improving health locally.
The health secretary stressed the new vision, set out in Prevention is better than cure, takes a holistic approach to health. It would look, he wrote, at coordinating transport, housing, education, the workplace and the environment in a 'grand enterprise' to improve the nation's health.
The Government is also committed to using artificial intelligence (AI), genomics and other technologies to transform the way we diagnose and treat chronic diseases, he added.
An estimated £97bn of public money is spent on treating diseases across the UK and only £8bn is spent on preventing them. This was an 'imbalance in urgent need of correction,' Mr Hancock said.
Local authorities have seen a £700m real terms reduction in public health funding between 2014/15 and 2019/20. The charity Health Foundation estimates over £3bn a year is needed to reverse the impact of Whitehall cuts to public health services.
The additional £20.5bn a year by the end of 2023-24 for the NHS will go towards supporting health and social care services, Mr Hancock said.
Jo Bibby, director of health at the Health Foundation, welcomed Mr Hancock's intervention but stressed that long-term funding was a necessity.
'This vision rightly identifies local authorities as playing a vital role in leading local health improvement,' said Dr Bibby.
'Their ability to deliver on this role, however, has been jeopardised by substantial cuts to local services and investments over the past decade of austerity.'
'Clearly, if this ambitious prevention vision is to become a reality then it will need to be matched with long-term investment,' she added.