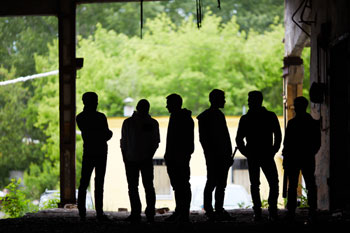 Communities across England are to receive a share of a £9.5m fund aimed at helping families who are vulnerable to the effects of knife crime and gang culture, the communities secretary has announced.
The Supporting Families Against Youth Crime fund will enable professionals working with young people at risk to intervene early and help stop them from becoming drawn into gang crime, serious violence and the youth justice system.
Community-backed projects in 21 areas across England will each receive a share of the funding and £300,000 will also be available for local authorities across England to train frontline staff on how to tackle childhood trauma.
'Carrying a knife should never be a rite of passage. For too long, it has been normalised behaviour for too many teenagers in our communities,' said James Brokenshire.
'Every violent incident, every injury, every young life lost is a tragedy that has devastating consequences for all involved.
'The early intervention strategies set out by the projects we are funding offer real alternatives to children and young people who may otherwise become involved in gang crime.'
'Tackling the root causes of serious violence needs a multi-agency approach and the together with key partners and the community, the government is determined to prevent young people being drawn into crime in the first place,' commented the home secretary Sajid Javid.
'This fund continues to build upon the government's Serious Violence Strategy, which focuses on early intervention alongside a strong law enforcement response.'