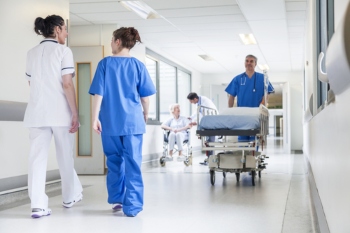 The Government has outlined plans to bring local government and the NHS closer together under its new Integration White Paper.
The white paper sets out plans to better integrate the NHS and social care in a bid to provide patients with 'better, more joined-up care' and reduce waiting lists.
Under the plans, local authorities and the NHS will be encouraged to share data and be more transparent about their performance. A new integrated system will allow the NHS to notify a local authority immediately if someone requires social care support.
The Government said improved integration would also deliver earlier intervention, more personalised care and give patients a single digital care record.
Health and social care secretary, Sajid Javid, said: 'Better integration is vital to stop people falling into the gaps between health and social care.
'Ensuring our health and care systems work in unison will mean we can support hardworking staff, provide better care to patients and deliver value for the taxpayer.
'Our Integration White Paper is part of our wider plans to reform and recover the health and social care system, ensuring everyone gets the treatment and care they need, when and where they need it.'
Paul Najsarek, Solace spokesperson for health & social care, added: 'The potential for local government to make a real, positive difference to the people and places we serve is immense, but it will only be by working together with health, voluntary and community sector partners, and playing to our respective strengths, that we will be able to deliver meaningful change by better treating and preventing illness, improving public health, and addressing inequalities.'
UNISON general secretary Christina McAnea said: 'This is yet another government policy without substance. Without sufficient staff or investment to deliver them, these reforms are doomed.
'The NHS and social care are running on fumes because of workforce and funding shortages. Joined-up working won't happen until ministers stop dodging the issues that really matter.'