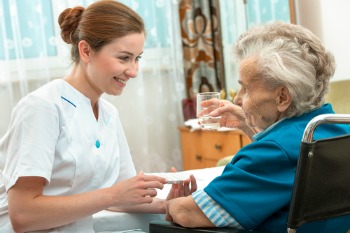 The future of adult social care is a growing concern due to the current underfunding of services, and an ageing population, raising issues about the way care should be paid for. Meanwhile, repeated delays to the government's own green paper on long-term reform of the care funding system has meant a lack of answers.
As a result, the Local Government Association (LGA) published a green paper consultation in July 2018, which was entitled The lives we want to lead. On 14th November, the full report, including the findings from the consultation, was made public, helping to explore the issues and provide some potential solutions.
In this article, we review the findings of the LGA green paper and ponder the future of adult care services.
The current state of adult social care
The respondents to the LGA consultation included a diverse range of people, including individual members of the public, councils, care providers, and voluntary sector organisations, but their verdicts on the current state of adult social care were fairly unanimous and damning of a 'disastrous' system that is 'underfunded'.
Among other things, it was reported that; services are being withdrawn, the quality of services is deteriorating, care providers are struggling to stay afloat, the average care worker is being put under too much pressure and worst of all, many adults in need of social care are living 'undignified' lives and are being put at an unacceptable level of risk.
With that being said, respondents were also clear in expressing their belief in the value of adult social care itself, with those employed in care worker and care assistant jobs making an extremely valuable contribution to society and the economy, and widely seen as helping service users to live fulfilling, dignified lives.
Nevertheless, it was concluded that a failure to act on the current crisis will result in increased pressure on the National Health Service, an increase in the number of unpaid family carers and even greater costs for either councils or the public sector in the long term.
Future funding for social care
The single most important question that needs to be answered is the question of how social care will be funded moving forwards. Although a variety of answers were given over the course of the consultation, the most popular response was to increase National Insurance contributions.
'Respondents favoured this for a number of reasons, including the progressive nature of NI, the fact that it would provide a national solution to a national problem, the relative ease with which the solution could be administered, and the fact that it would raise a significant amount of money,' the report states.
While opinions were divided regarding whether people should be responsible for paying for their own social care, 67% agreed that people should contribute towards some of their care costs if they can afford to, while 45% felt that people who are able to should pay for all of their care costs.
This may suggest that social enterprises have a role to play in helping to alleviate pressure on the NHS.
Understanding workforce challenges
In addition to the key question of how adult social care should be funded, one of the other topics highlighted by the LGA report was the various workforce challenges and issues that exist within the sector, with the relatively low number of care workers being seen as a contributing factor to falling standards of care provision.
One respondent, a care provider, made the point that care worker and care assistant jobs are deserving of more than the minimum wage, due to the fact that it is a high-pressure role, where it is often necessary to work unsociable hours in stressful environments. As a result, pay is a major concern when it comes to attracting new carers.
Moreover, jobs within adult care services require the provision of high-quality training, and this too requires significant investment, which many service providers are unwilling to make.
Conclusions
As the report concludes: 'Adult social care and support matters because people's lives matter.' This is an issue relating to human rights that requires action.
It is clear that the current state of adult social care is neither tenable nor viable however solutions do exist.
The LGA report provides a clearly defined action plan with prioritised recommendations commencing immediately. The main priorities are to address underfunding and lay the foundations for delivering an improved social care and support system.
In the absence of a green paper from government this document goes a long way to providing workable solutions.
Camille Leavold is the managing director and co-founder of Abbots Care.