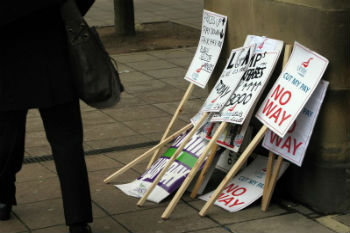 Welsh council leaders have welcomed plans to introduce a new Bill to help reverse the 'damaging and divisive' effect of the UK government's Trade Union Act.
The Trade Union Act 2016 will impose new strike ballot thresholds in public services and will monitor and restrict the activities of trade unions.
However, the Welsh Assembly has now proposed a new Bill to stop the Act from applying to local government, the NHS, education and the fire service.
Local government secretary Mark Drakeford said: 'Not only is the Act damaging and divisive but it interferes with devolved policy and the powers held by the National Assembly for Wales.
'Key sections on ballot thresholds, facility time and check-off would make the delivery of devolved public services in Wales more difficult, changing the balance of the relationship between employers and unions.
'This Bill seeks to ensure the damaging provisions of the UK Act do not apply to public services in Wales.'
The Welsh Local Government Association (WLGA) said councils have worked hard to engage positively with trade unions.
Cllr Peter Rees, WLGA employment spokesperson said: 'We respect the work of trades unions and the rights of their members and we want to continue to engage with them constructively to support and sustain local government services in Wales.
'As the employers body for local government in Wales, we therefore welcome the Welsh Government's Bill which will see a number of hard fought for rights for trade union members restored.'