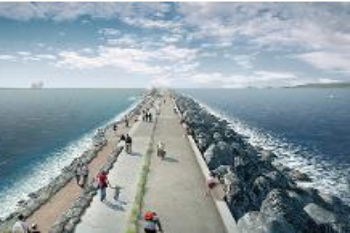 A Government decision to reject plans for the world's first tidal power lagoon in Cardiff has been slammed by local politicians of all parties including the Conservatives.
Business and energy secretary Greg Clark said the £1.3bn project did not represent value for money, despite claims by the developers that a revised offer had made it cheaper.
The scheme at Swansea Bay had £200m backing from the Welsh Government, but the UK government said it would not pay the developers, Tidal Lagoon Power, the fee it was asking for energy.
Mr Clark told the Commons: 'Securing our energy needs into the future has to be done seriously and, when much cheaper alternatives exist, no individual project, and no particular technology, can proceed at any price.'
Government analysis estimated that the lagoon would cost the average British household consumer an extra £700 between 2031 and 2050.
But TLP chief executive Mark Shorrock said the figures were wrong, adding that offshore wind projects had received £8bn in subsidies and the tidal lagoon project needed £25m a year 'to kick start an industry'.
'It's a very, very sad day for Wales, for Swansea,' he told BBC Radio Wales' Good Evening Wales programme.
Leader of the Welsh Local Government Association, Cllr Debbie Wilcox, said: 'On the day when the UK Government is pressing ahead with plans to expand Heathrow Airport, Wales has been short-changed on a major infrastructure project of national significance.
'We are therefore seeking an urgent meeting with the secretary of state for Wales to discuss the ramifications of this decision and to seek reassurances that Wales features in the UK Government's Industrial Strategy.'
First Minister Carwyn Jones tweeted that it was a 'crushing blow to Wales'.