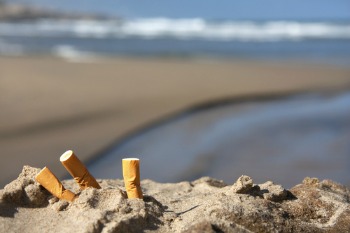 Proposals to trial a smoke-free beach in Pembrokeshire have been backed today by Pembrokeshire County Council.
The council's head of public protection, Mark Elliott, proposed a voluntary ban on the beach, meaning it cannot be enforced, on a designated local beach for a trial period, following successful initiatives in Italy, Australia and the US.
The council have also suggested introducing smoke-free policies (both cigarettes and e-cigarettes) to all playgrounds within the county, with playing fields, sports grounds and associated car parks all covered within the playground ban.
Cllr Huw George, cabinet member for environmental and regulatory services and the Welsh language, said: 'We need to safeguard our children and young people from the harm of smoking and the rapidly developing interest by the under 18s in e-cigarettes. Seeing adults smoking in areas where sports are taking place and children are playing helps to normalise smoking making it seem harmless.
'Tobacco kills more than 5,000 people in Wales every year, not to mention the costs to health and other services from treatment of smoking related illnesses.'
The proposals have been submitted to the council's relevant departments, after which they will be put before the council's cabinet for the final decision.