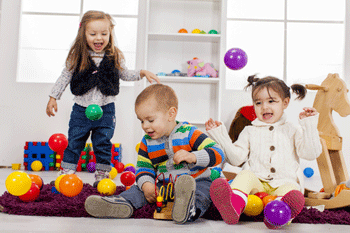 The Government is 'failing working parents', Labour says as analysis reveals the cost of childcare has risen dramatically since 2010.
An analysis of official figures by the opposition party has found the average weekly cost of childcare has risen by over 50% between 2010 and 2017.
In the North East, the average weekly cost of childcare has more than doubled, while the West Midlands has seen an increase of 82% and Greater London an increase of 73%.
'The Tories are quite simply failing working parents, who are seeing the cost of their childcare skyrocket, their wages fall, and their Government failing to give them the support they need,' said the shadow education secretary Angela Rayner MP.
'Childcare costs have shot up since the Conservatives took office in 2010, and both wages and Government support have failed to keep pace with either the cost of childcare or the needs of families.'
Labour's analysis follows a recent report from the New Economics Foundation which found the total cost of childcare for school-age children in England will be £3.44bn this Summer holiday.
Government contributions will cover just £688.56m of this figure, leaving parents to pay £2.75bn, the think tank said.
A department for education spokesperson insisted the Government were investing £6bn per year up to 2020 in order to provide families with access to 'high-quality affordable childcare'.
'Parents are already able to access 15 hours of free childcare and from September we are doubling that offer to 30 hours for working parents - worth up to £5,000 per child – with that increased entitlement successfully rolled out in several areas across the country,' the spokesperson said.
'Alongside this, we are introducing tax free childcare which will save families up to £2,000 per child per year.'
Nurseries warned last month that the funding for the Government's flagship 30 hours free childcare policy was 'inadequate'.
A freedom of information request by the National Day Nurseries Association (NDNA) shows that the average hourly rate promised to nurseries is £4.37 compared to £3.97 in 2016/17.
The NDNA warned the 40p increase was 'inadequate' and would lead to many providers opting out of the expanded childcare as they will not be able to afford it.