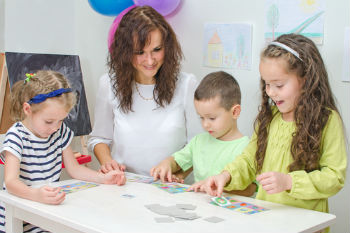 Nurseries will only a receive an 'inadequate' increase of 40p per hour in order to provide 30 hours of free childcare, new research has revealed.
A freedom of information request by the National Day Nurseries Association (NDNA) shows that the average hourly rate for nurseries is £4.37 compared to £3.97 in 2016/17.
The association warns this will mean many providers will opt out of providing expanded free childcare as they will not be able to afford to take part.
Purnima Tanuku, chief executive of NDNA, said: 'More funded hours will mean greater losses. The average nursery is short of delivery costs for the current 15 hours by almost £1,000 per child per year.
'An average increase in funding for 15 hours is £228. That is only a quarter of the current shortfall, never mind bigger losses caused by twice as many free hours.'
She added: The Government said it would be investing an unprecedented £6bn into early years by 2020 but there is nowhere near enough money in the system to allow nurseries to offer 30 hours and survive as businesses. It is now crunch time.'
Responding to the research. The Local Government Association (LGA) said councils were also concerned the funding would not be enough to provide high quality childcare provision.
Cllr Roy Perry, vice chairman of the LGA's Children and Young People Board, said: 'In the recent revised funding formula, the Government set a target of just 5% of the overall funding to be retained by councils to support essential central administration and support. The research shows that on average local authorities are already retaining less than %.
'In some instances, where councils provide more centralised training and support in agreement with nurseries and other early years providers, local authorities may agree with government to retain a higher level of funding, enabling the sector to reflect differences in local approaches.'