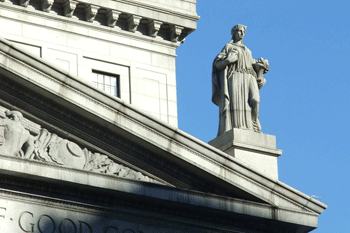 A London council is set to challenge the Government over its right to publish a fortnightly newsletter for residents.
Waltham Forest council's cabinet has been recommended to apply for a judicial review of the ban imposed by home secretary Sajid Javid.
He issued a direction to the council in April saying it must not publish its newsletter, Waltham Forest News, more than four times a year.
The ban comes under regulations issued in 2011 by then local government minster Eric Pickles to combat 'town hall Pravdas'.
But the council argues the newsletter provides residents with important local news and information on how to access services which would be too costly to publish in local newspapers.
A report to the council's cabinet says the legal challenge is likely to be mounted with nearby East London council Hackney which is also maintaining a fortnightly newsletter.
There are thought to be many councils nationwide defying the ban on publishing newsletters more than four times a year, most with monthly publications.
A report to Waltham Forest's council due to meet next week says its newsletter makes £145,000 a year profit from advertising.
But it says the council would have to fund the newsletter by £112,400 if it were reduced to four issues annually.
A spokesperson said: 'We believe Waltham Forest News provides residents with reliable coverage of local news, information and events.
'It reaches every household in the borough and contains a thorough guide to what is happening in the local area for residents as well as information on how residents can access services and benefits that the council provides.
'It also fulfils our legal obligations to print public notices in a fortnightly publication without having to spend taxpayers' money on expensive advertising in the commercial press.'