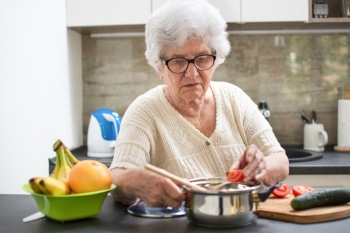 Vulnerable people are still struggling to access food and basic supplies during the pandemic, a consumer watchdog has warned today.
Which? said that urgent government action is needed to ensure those at very high risk or vulnerable do not go hungry during lockdown. It found people are struggling to book supermarket delivery slots, unable to find local help, and even being forced to risk their health to get supplies themselves.
It is calling for better coordination between governments, local authorities, the food industry and local charities to ensure people can access the right support they need.
Sue Davies, head of consumer protection and food policy at Which?, said: 'Based on the huge number of reports we're seeing from vulnerable people struggling to get access to basic food and supplies, it's clear that the current system is not working for those who need it the most.
'Without easily accessible and clearer information for these people, and stronger coordination between the UK's central and devolved governments, the food industry, local authorities and local charities, there is a risk that many will go hungry during this pandemic.'
The Local Government Association (LGA) said councils are working hard to protect those most vulnerable from the virus.
Cllr Ian Hudspeth, chairman of the LGA's Community Wellbeing Board, said: 'We are working with the Government to try and understand how the support system for the shielded group can work best and be improved upon, including the need for better data about shielding the clinically vulnerable.
'This will help ensure those who need assistance get the help they need.