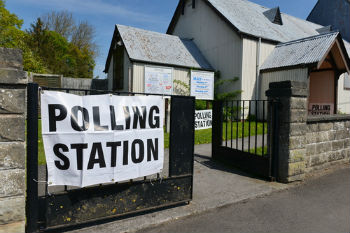 The pilot scheme being run by five councils to require ID from voters in May's local elections will seem to many a sensible way to tackle electoral fraud. For electors in Woking, Gosport, Bromley, Watford and Swindon having to take a passport of driving licence to the polling booth will be a novel experience.
Supporters of the scheme point out that producing ID is perfectly normal in many everyday situations - as then cabinet office minister Chris Skidmore said when launching the scheme, it is 'harder to take out a library book or collect a parcel at a post office than it is to vote in someone's name.'
It has been standard practice in Northern Ireland since 1995 and dramatically reduced 'personation' - vote stealing, where someone assumes the identity of another elector to notch up an extra vote for their party.
In mainland UK the idea for the current pilot project goes back to 2016 when the combative then communities secretary Sir Eric Pickles launched a review in the wake of the Tower Hamlets scandal where mayor Lutfur Rahman had been banned from office after being found guilty of a litany of corrupt electoral practices.
Sir Eric made several recommendations including the introduction of a voter ID system. There is no need to be over-elaborate, he said - whatever measures were adopted should be proportional and enhance public confidence. A driving licence, passport or utility bills would not seem unreasonable to establish identity.
The report was welcomed by the Electoral Commission who said 'the use of photographic ID is the most effective proof against personation, however, we look forward to working with the Government and other partners to further explore the options, in order to ensure voter confidence in the system.'
Others, though, take a very different view, including the Electoral Reform Society - a campaigning organisation completely separate from the Electoral Commission. Evidence from around the world, it says, shows that forcing voters to bring photographic ID to the polling station simply makes it harder for people to vote while doing little to stop determined fraudsters.
The society points out that electoral fraud, far from being a rampant problem distorting our democratic processes, is extremely rare. In elections in 2016, it points out, there were just 26 were allegations of impersonation – the type of fraud that voter ID is designed to tackle - resulting in two convictions.
It is a vanishingly small fraction of the millions of votes cast, the society says, a sledgehammer to crack a nut which would only make it harder for millions of legitimate voters to exercise their democratic rights.
Some in local government take a similar view. Slough, one of the councils originally signed up to take part in the forthcoming pilots, later withdrew amid an angry row among councillors.
Some said poorer groups were less likely to have access to appropriate ID, such as driving licences, meaning the pilot could disenfranchise the poor. One councillor declared: 'We don't want to use the residents as guinea pigs, and I don't want to punish the law-abiding majority or create hurdles for them.'
Local MP for Slough Tan Dhesi supported for the pull-out, saying: 'The Tories are trying to introduce this not to tackle election fraud, 'but basically just to knock out not hundreds but millions of voters and disenfranchise them.'
A voter ID scheme may prove to be effective - although it may be hard to tell as there has been only a handful of cases of voter fraud in the five volunteer boroughs - but it is certain to provide extra work for those involved.
As the Association of Electoral Administrators points out, the new set-up will require extra training for the staff at polling stations to make sure they know exactly what ID is required so that those who do not meet the requirements are not barred and, just as important, genuine voters are not turned away. Returning officers - who, although employed by local authorities, are independent - and their teams may face difficult challenges in the polling booths.
Even if the pilots go smoothly, without arguments at the polling booths or accusations of unfairness, it will remain debatable whether voter ID in its proposed form will be effective in tackling fraud.
The experience of Northern Ireland suggests that is questionable. Speaking amid mounting evidence of new cases of voter fraud, former chief electoral officer Pat Bradley, who watched over elections during the worst years of the Troubles, recently told the Belfast Telegraph that only a very tight system using eye recognition or fingerprinting to identify voters would eliminate voter personation.
But there is a balance needed, he said, 'on the one hand having a secure system and on the other having a system that the public can use.'
Supporters of voter ID may assume the public is outraged that fraudsters sometimes try to cheat the system to gain power in elections and believe it is worth pursuing in order to protect democracy.
But unlike in many countries in continental Europe and around the world, the UK has no history of a legal requirement for ID, often seen here as an infringement of personal liberty.
Many may conclude that the idea of having to produce documents to be allowed to vote is alien to them, especially if there are examples in May of people being denied a vote because they fail to produce the right documents.
The government is squarely behind compulsory voter ID and is planning a further series of pilots next year before considering whether to roll it out nationally.
But like all contentious issues in a democratic society, it will ultimately be decided in the court of public opinion, and it will be clearer by next summer, when the pilots have been concluded and the official report published, how that looks.