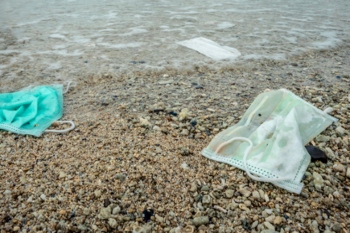 Discarded face masks and gloves have been found on 30% of Britain's beaches, according to the results of this year's Great British Beach Clean.
The volunteers found a rise in PPE pollution on beaches, while 69% of inland cleans found littered masks and gloves.
Lizzie Prior, Great British Beach Clean coordinator, said: 'The amount of PPE our volunteers found on beaches and inland this year is certainly of concern.
'Considering mask wearing was only made mandatory in shops in England in late July, little more than three months before the Great British Beach Clean, the sharp increase in PPE litter should be a word of warning for what could be a new form of litter polluting our beaches in the future.'
During the event, an average of 30 drinks containers were found per 100m of beach surveyed this year. Inland, almost all litter picks (99%) found drinks containers.
Dr Laura Foster, head of Clean Seas, said: 'This year's data shows just how crucial it is that Wales, England and Northern Ireland follow in the footsteps of Scotland and urgently introduce an all-inclusive Deposit Return Scheme.'