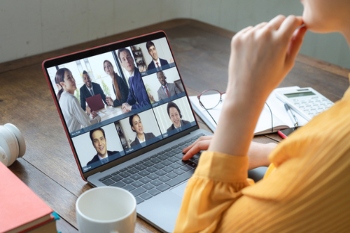 Councils will not be able to hold virtual council meetings after 6 May after the Government refused to budge on changes to legislation.
In a letter to council leaders late last night, local government minister Luke Hall said the Government had 'concluded that it is not possible to bring forward emergency legislation on this issue at this time'.
The minister suggested the successful rollout of the COVID-19 vaccine to the over 50s and vulnerable people meant there would be little risk. He also highlighted existing powers for councillors to delegate decision making to the head of paid service to cut the number of meetings.
Council leaders have hit back at the announcement. Camden leader Cllr Georgia Gould tweeted she was 'appalled at [the] nonsensical decision' and asked: 'Why should community, staff & councillors be forced to put themselves at risk? This should be left to local places & their public health advice'
Local Government Association chairman, Cllr James Jamieson, said he was 'extremely disappointed'. He said: 'We urge the Government to reverse this decision and not force councils to have to hold COVID-19 secure face-to-face council meetings until all restrictions are lifted.'
Under the current rules, gathering for business events will not be allowed until 17 May, and Parliament will be allowed to continue remotely until 21 June at least, but councils will need to hold their first council meeting post-election in person.
Birmingham City Council deputy leader, Cllr Brigid Jones, described the move as 'absolute madness'. She tweeted: 'Councils know best. Let us decide.'
A current legal challenge by Lawyers in Local Government, the Association of Democratic Services and Hertfordshire CC, is based on the premise councils already have the powers needed to hold online meetings.
The challenge was fast-tracked earlier this week in order to meet the 6 May deadline.
Mr Hall's letter to council leaders also revealed the Government was launching a call for evidence on whether there should be permanent arrangements for virtual meetings.