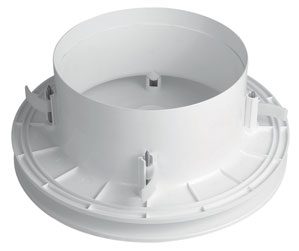 Resident comfort is at the core of Vent-Axia's newly updated PoziDry ProTM Positive Input Ventilation (PIV) unit. Designed by the UK's leading ventilation company, specifically to tackle condensation and mould and improve indoor air quality (IAQ) in social housing properties, the next generation PoziDry ProTM boasts three new features to help landlords improve resident comfort levels.
These design innovations include a tamper-proof lock mode to ensure consistent ventilation performance; selectable summer and winter comfort settings; and a new easy-to-install discreet diffuser, which allows more air movement at a lower noise level. If a ventilation unit is tampered with it will not deliver the air performance required, potentially leading to condensation and mould which could cause costly damage to the fabric of the building, as well as causing poor indoor air quality which could result in health problems for residents.
Vent-Axia has therefore introduced a new interface so that it is lockable at installation, making it tamper proof to ensure consistent ventilation. This means the unit will operate as commissioned since the lock prevents residents from being able to change ventilation settings. Having a lockable system will give landlords peace of mind that the settings have not been altered and helps ensure a healthy property and residents.
Meanwhile, to improve thermal comfort for residents in high and low temperatures, Vent-Axia has added summer and winter comfort settings to the new PoziDry Pro™. This addition allows the installer to change the unit's temperature-triggered boost and cut-off settings thus ensuring the unit automatically keeps homes at a comfortable temperature all year round. This is especially useful in homes with more vulnerable residents, such as young children or the elderly where occupants may want to maintain their indoor temperature to a constant level. With these new control options, resident comfort is improved as the thresholds can be adjusted to suit individual occupants.
The PoziDry Pro's third new comfort feature is the addition of a discreet diffuser with Smart Air™ technology. Low profile and aesthetically pleasing the diffuser has been designed with resident acceptability in mind. Secured by design its anti-tamper features prevent interference with the product's performance. Meanwhile, Vent-Axia's unique Smart Air™ technology has been designed to allow for maximum airflow with minimum noise. This feature increases airflow performance by 10% compared to traditional diffuser designs, while allowing control over airflow direction. Plus for installers a handy sealant channel makes it easy to accurately place a seal to compensate for uneven ceiling surfaces.
"These latest improvements to the popular PoziDry Pro™ set it apart from other PIV units on the market as the new flexible controls allow landlords to provide improved tenant comfort and health, reducing call backs, as well as providing a highly effective solution to condensation and mould control" said Tom Wodcke, Product Marketing Manager at Vent-Axia. "Additional benefits such as low noise levels, high energy efficiency and simple install means the PoziDry Pro™ is an all-round winner."
Boasting quick and simple installation for contractors the PoziDry Pro™ is a highly energy efficient ventilation unit that is unobtrusive, near silent and helps provide a healthy environment for residents. Operating by drawing in fresh air via the loft, the PoziDry Pro™ filters all incoming air removing contaminants via the high grade G4 or F7 filters before gently introducing it into the habitable areas of the property. The diffuser directs the airflow upwards where the incoming air mixes with the warm air that gathers at ceiling height. The system provides fresh, tempered air that is drier than the inside air, this creates a healthy indoor environment helping to avoid condensation and mould, benefiting both the occupants and the structure of the building.
For landlords the PoziDry Pro™ offers the perfect solution for hard to cure condensation and mould properties by preventing moisture build-up within the home and improving IAQ. Boasting Smart Sense™ intelligent technology, the unit provides data via an intuitive interface to communicate the fan's energy performance whilst its datalogger records a number of different factors including length of time spent on each speed. This helps to identify properties with high humidity as they spend longer on higher speeds. The datalogger can also show remaining filter life and energy consumption.
For contractors the PoziDry Pro™ features tried and tested Smart Sense™ technology making installation quick and simple thanks to a simple alpha numeric LED display which is clear and easy to read and a three-button menu for commissioning and data gathering. With the unit sized to fit through all standard loft hatches, the PoziDry Pro™ is a lightweight easy one-man-lift with an easy-grip handle moulded into the unit to make carrying it through the loft easy. The unit also comes pre-attached with filters to further speed up installation.
Traditionally PIV units are available with hanging kits only but to ensure an easy install first time the PoziDry Pro™ features two mounting options as standard; multi-position mounting legs and a hanging kit. This ensures the PoziDry Pro™ is suitable for a wider range of homes. The PoziDry Pro's mounting legs offer installation versatility, especially where a roof has a shallow pitch. Designed to fit any 400mm to 600mm joist centres, the anti-vibration acoustic mounting legs raise the PIV above potential loft insulation and can be adjusted for different joists offering installation versatility and ensuring silent operation.
PoziDry Pro™ offers reliable and effective ventilation with a 5-year warranty, protecting residents' homes from condensation and mould and offering peace of mind for landlords.
For further information on all products and services offered by Vent-Axia telephone 0844 856 0590 or visit www.vent-axia.com.