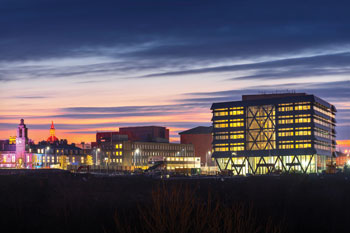 The only Grade A city centre office building to complete in the North East this year is set to open its doors on the former site of Sunderland's iconic Vaux Brewery.
THE BEAM, a towering, five-storey 59,427 sq ft office development, delivered by Sunderland City Council, is at the heart of plans to transform the city centre into a thriving destination for businesses and investors.
The flagship development, the first on the prominent riverside site, provides high-quality office space overlooking the recently regenerated Keel Square, and will include two ground floor spaces suitable for retail and/or leisure opportunities with breathtaking views of the River Wear and Wearmouth Bridge.
Sunderland City Council - alongside letting partners, Naylors and Knight Frank – is marketing the site to prospective tenants and has already held discussions and facilitated visits with a number of businesses interested in locating there. The first occupier is expected to be announced within months.
Cllr Graeme Miller, leader of Sunderland City Council, says: 'THE BEAM is a stunning building, and one that will pave the way for the creation of a vibrant new corner of the city centre, as the wider VAUX site is developed.
'We've already had significant interest from a host of potential tenants and we're extremely confident of converting this interest into lettings.
'Not only will it provide a huge boost to the local economy, but it will also add to the already impressive offering of Keel Square and the Cultural Quarter and will transform the city.
'THE BEAM is a central pillar to what we're trying to do in Sunderland, with a £0.5bn City Council investment for the city centre in the 15-year period to 2030, and it's wonderful to see it finally starting to come to fruition.'
THE BEAM – which boasts a stunning city panorama – will accommodate businesses looking for contemporary working environments from as little as 2,500 sq ft right up to the full floorplate. It has been designed with wellbeing as a priority, with bright open spaces, natural ventilation and significant public realm outside, promoting a healthy work-life balance.
The £20m development - located just minutes from key transport hubs like the overground Metro rail station, Sunderland's central train station, and the city's bus station - is one of a large number of regeneration projects underway across Sunderland.
THE BEAM will be followed by a second building, a civic hub – City Hall - that will house a number of support services including the city council's employees. Work is expected to start on that development in the winter.
Cllr Miller adds: 'Vaux Brewery was a huge part of Sunderland for almost a century and we're determined to ensure that its legacy lives on through the work being undertaken on the site over the next few years.
'Now that work has almost finished on THE BEAM, we will begin to see this corner of the city come back to life, and with a number of schemes – office, leisure and housing – set to follow, not only on VAUX but throughout our city centre, this is the starting gun on a transformative programme of development at the heart of Sunderland.'
The design and fit-out of THE BEAM was the work of leading architecture practice Feilden Clegg Bradley Studios (FCB Studios), which has worked on iconic projects such as Manchester School of Art, London's Southbank Centre and the National Trust headquarters in Swindon.
This feature first appeared in Public Property magazine - email l.sharman@hgluk.com to sign up for your free digital copy.