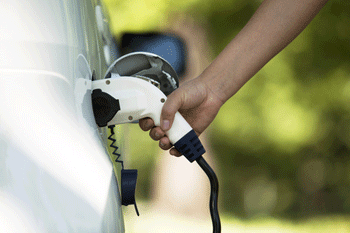 The UK could see up to 11 million electric vehicles on the road by 2030 and 36 million by 2040, according to a new report.
The National Grid's annual Future Energy Scenarios report found electric vehicles will will play a major role in delivering a low carbon future.
It found that the increase in electricity peak demand could be as little as 8GW in 2040 due to the use of EV smart charging and vehicle-to-grid technologies.
Fintan Slye, director, UK system operator at National Grid, said: 'The continued growth in electric vehicles, a greater volume of low carbon generation and the advancement of storage technology, are among the major trends that have emerged from this year's report.'
However Matt Allen, CEO of Pivot Power, warned local leaders must prepare now for this expected increase in electric vehicles.
He said: 'National Grid's forecast shows that consumer demand will rapidly make petrol and diesel emissions obsolete. We are on a road to zero emissions transport.
'We now need local leaders to support public demand and government ambition and create their own regional road to zero plans. Electrifying buses, taxis and light transport fleets are all easy wins.'