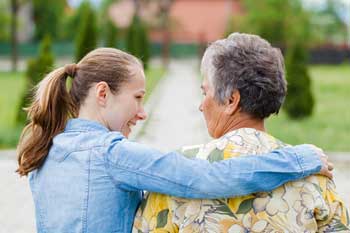 There are over seven and a half million people in the UK who provide unpaid care for a relative — one million more than in 2005, new study reveals.
Research from the Social Market Foundation (SMF) has revealed that 15% of adults are now providing unpaid care for a relative.
The think tank has learnt the proportion of family carers providing 20 or more hours a week has increased from 24% to 28% between 2005 and 2015.
It also discovered family carers provide 149 million hours of care each week — the equivalent of the work done by 4 million full-time paid care-givers.
'This valuable new report confirms how incredibly reliant we are on the contributions of families and friends when it comes to the care of older people,' said Caroline Abrahams, charity director at Age UK.
'Certainly they deserve our grateful thanks, but that's not enough: the report shows many informal carers are losing out in terms of their work, finances and health.
'This is not only unfair but it is also unsustainable, and there is an urgent need for new Government measures to give them more practical support, help them balance working and caring, and mitigate their financial losses.'
The charity Carers UK welcomed SMF's report, saying it 'underlines our repeated call for stronger action from Government for greater funding for social care, for better awareness and recognition from the NHS and greater support in employment to be able to juggle work and care.'
'With reducing Government funding and rising needs with an ageing population, it is no wonder that caring provided by families, unpaid, is on the increase,' said Emily Holzhausen OBE , director of policy and public affairs at Carers UK.
'Yet the financial and personal consequences of this are significant for families, business and the economy.
'Only last week we published our State of Caring 2018 survey showing that 72% of carers had experienced mental ill-health as a result of caring, 35% had given up work to care, one in seven had seen a reduction in services even though their needs had stayed the same.
'We heard from carers struggling financially to make ends meet, people who were exhausted and unable to look after their own health needs, and many who were losing the battle to juggle work and care.'