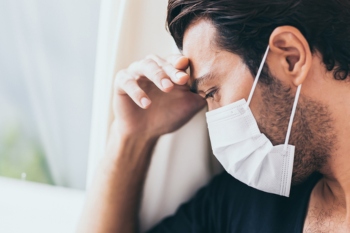 More than two-thirds of care workers (68%) have seen their mental health decline during the pandemic, according to the results of a new survey.
The survey by UNISON found the vast majority (85%) of care workers said their work has contributed to the difficulties they are experiencing.
The trade union warned there is a 'serious risk' the mental health of staff will worsen in the coming weeks as thousands of workers could leave their jobs over new compulsory vaccine rules, leaving the sector even more short staffed.
UNISON general secretary, Christina McAnea, said: 'Care workers have been through the mill these past 18 months. They have seen dozens of people they look after either fall seriously ill or die. They've been terrified about becoming sick themselves or taking the virus home to their families. Many have struggled financially because of the absence of proper sick pay.
'Despite the Prime Minister's promise to fix social care, there is still no plan. With the sector facing the abyss, thousands of staff down with others leaving all the time, more must be done to support those care workers that remain in post.'
The Government has pledged some of the money raised by the new health and social care levy will go towards mental health resources but UNISON said these should be developed with staff to ensure the right help is provided.
Cllr David Fothergill, chairman of the Local Government Association's Community Wellbeing Board, said: 'Councils and care providers are doing what they can to support their workers, including providing greater access and tailoring information to address specific concerns about the coronavirus vaccine.
'Other actions are also urgently needed for the care workforce, which still faces a huge recruitment and retention crisis with more than 100,000 vacancies available on any given day and extremely high turnover rates, including on pay, conditions, professionalisation, skills and training.'