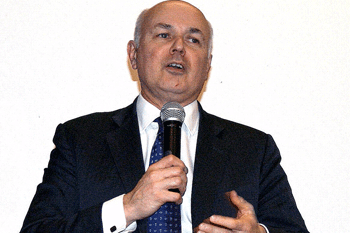 New EU migrants will not be able to claim benefits until they find employment, under new regulations intended to crack down on the abuse of the system.
Under the Government's Universal Credit, no EU households will be able to access means-tested benefits without first having a job.
New migrant jobseekers are already banned from claiming Housing Benefit and all EU jobseekers must live in the country at least three months before claiming income-based JSA, Child Benefit and Child Tax Credit.
Work and pensions secretary, Iain Duncan Smith said: 'As part of the government's long-term economic plan we have led the way with a series of measures to tackle abuses, tighten immigration routes, and toughen up the rules on access to UK benefits – and we have seen other European countries follow our lead and take similar action.
'Our new rules for Universal Credit will ensure we have a fair system where people cannot claim means tested benefits until they have worked.'