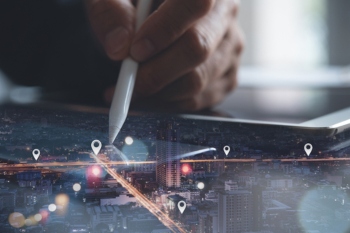 Fiona Barron, chief executive, Land Data, and Steven Brandwood, executive director of Engagement, GeoPlace, discuss the importance of keeping the UPRN conversation going at the local level.
When something is worth doing, it's worth doing right. And with all the emotions and financial risks involved in a house purchase it's definitely worth doing it right. Deciding whether to or not to proceed with a property purchase using the best possible data sounds obvious. But, in the current, fragmented data climate, where data comes in various forms via different routes, the choices can be confusing. Understanding where data comes from, and how it has been collected gives buyers and their advisors the ability and confidence to make informed decisions.
Local authorities are custodians of crucial data
Local authority departments including local land charges, highways, housing, environmental, planning and building control are the guardians of 'authoritative' land and property data, everything from planning and enforcement notices to boundaries, tree protection orders and rights of way. Lenders, conveyancers and purchasers rely on this data to ensure transactions proceed with all parties fully aware of the facts and any potential issues.
Through the National Land Information Service (NLIS) and its channel partners, conveyancers can directly access data from the source provider, be it a local authority, HM Land Registry or the Coal Authority. This ensures its provenance and authority.
With a drive towards more digitisation and flexible, upfront data, it is more important than ever that the UK's home buying and selling market relies on authoritative data drawn from official sources. Enter the UPRN! Unique Property Reference Numbers were born in 2001 and have been gaining momentum ever since. UPRNs weave together datasets and create huge value in the process, including for local land charges, conveyancers and home buyers. They're here to stay; make sure you're on the front foot!
UPRNs are overhauling spatial data and their potential is unbound
Every addressable location in the UK has a UPRN, an identifier up to 12 digits long, providing a consistent reference to a structure throughout its lifecycle – from build, through any changes and adaptations, to demolition. UPRNs are machine-readable, precise, trusted and made for a digital, API-driven world where information about a property is linked and instantly available. The implementation of UPRNs is compelling and obvious, but there are still some barriers to take-up, including the weight of legacy software systems.
UPRNs and USRNs (Unique Street Reference Numbers) are allocated mainly by local authorities, the legal bodies responsible for naming streets and numbering properties. Standardised address information from local authorities is then collated with the associated UPRNs, property classification, building status and the National Grid reference so that the data can be viewed on a map.
This precise location information is essential for councils to deliver services to the residents they serve, from finding accommodation for a homeless person to collecting someone's bin or providing support to a family in difficulty.
In 2020 the Government set out two strong measures to fast track the adoption of UPRNs by both the public and private sectors. Firstly, the Government Digital Service mandated the use of UPRNs and USRNs by central Government in all new systems. And secondly, published them with an Open Government Licence to fuel innovation.
The benefits for councils
It is no surprise that UPRNs have huge efficiency saving potential for councils – reducing duplication, aiding the identification and transfer of documents, and linking data across systems. The potential benefits touch every corner of local authority delivery, from meeting carbon reduction targets, to supporting the most vulnerable people in the community.
A 2022 study showed that widespread adoption and use of address data and UPRNs by local authorities could generate £384m savings over the period 2022-2026, with an enhanced return on investment of 6:1.
For homebuyers, UPRNs allow the fast-tracking of official land and property searches for conveyancers and remove historic data discrepancies. This improves turnaround times, speeding up property transactions and driving down the number of purchases that fall through – currently around 22%, the highest rate in eight years.
Last year the Home Buying and Selling Group, representing the legal, surveying, estate agency and property management sectors, launched a new version of the BASPI – the Buying and Selling Property Information form. For the first time, the form includes the requirement to include a UPRN alongside the address of the property, enabling conveyancers, lenders and buyers to be confident that they are dealing with the same piece of land or property.
What next?
The commitment of central Government to reform location data through the UPRN mandate is powerful. UPRNs are already included in Energy Performance Certificates and underpin key Government processes including management of the census and registering to vote. Their adoption by local government, while not currently mandated, is inevitable and essential. Indeed, as the LGA states, 'The UPRN is key to almost everything that's delivered or achieved by councils.'
Wondering what you can do to support the further adoption of UPRNs in your local authority? Take inspiration from other authorities. There are over 300 case studies on our website and a UPRN integration check list which summarises the key steps to help you make effective use of UPRNs. A quick UPRN Integration Assessment tool is also available to help service managers ascertain how well integrated their systems are with the UPRN. Finally, you should contact your local address Custodian who can help further. To find the local custodian for your council, use the LGA's 'Find My Custodian' tool.
But regardless of your role, keeping the UPRN conversation going in your council is the most important thing. They're here, so grasp the opportunity to shape their adoption.