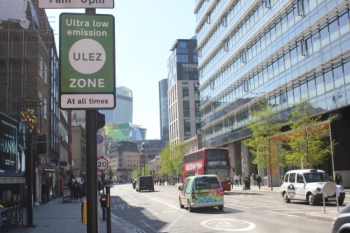 As London's Ultra Low Emission Zone (ULEZ) sees a massive expansion, a think tank has called on mayor Sadiq Khan to go further and introduce a pay-per-mile road user charging scheme.
The new zone, which comes into operation today, covers all areas within the North and South Circular roads and will be 18 times the original area, which was the same as the central London Congestion Charge Zone. The North Circular (A406) and South Circular (A205) roads are not in the zone.
The ULEZ will run 24 hours, seven days a week, except Christmas Day, and even a short trip inside the zone using a vehicle that doesn't meet the ULEZ emissions standards incurs the £12.50 daily charge.
TfL said the existing ULEZ has seen toxic pollution slashed by half and that more than 80% of vehicles are now compliant, up from 39% in February 2017 when the plans for the larger area were first announced.
However, it is estimated that up to 100,000 cars, 35,000 vans and 3,000 lorries a day could potentially be affected by the tighter standards in the expanded area, with drivers of cars, small vans and motorbikes paying a £12.50 daily charge.
Nick Bowes, chief executive at Centre for London said all eyes will be on London to watch how successful the ULEZ will be at cleaning up the capital's air.
He added: 'However the ULEZ has its limitations. It's an analogue scheme in a digital age, relying on technology from 2003. Many petrol and diesel vehicles are still exempt from the scheme and extending the reach of a flat charge may incentivise Londoners to drive more to get value from their daily payments.
'A pay-per-mile road user charging scheme would improve air quality, reduce congestion, encourage Londoners to walk, cycle and use public transport, and help to plug the yawning hole in Transport for London's budget. Any additional revenue could also top up the Mayor's scrappage scheme and help Londoners exchange their polluting vehicle for a cleaner one.
'The likelihood is that at some point in the near future the government will have to introduce a nationwide road user charging scheme to replace lost fuel duties. The Mayor should grab the opportunity to go further now so that London has a system that works for the city.'
Katie Nield, a lawyer at campaign group ClientEarth, called the expansion of the ULEZ 'a lifeline for Londoners'.
She said: 'Alongside the ULEZ, local and national governments need to provide the right help and support to make sure that people on lower incomes and small businesses are able to transition to cleaner forms of transport.'
This article first appeared on Transport Network
Photo: Lorna Roberts / Shutterstock.com