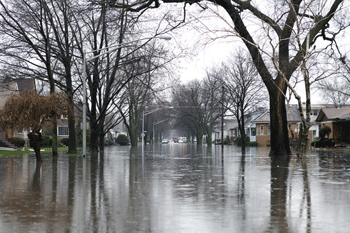 A long-term strategy to ensure infrastructure is resilient to flooding and coastal change by 2050 has been unveiled today by the Environment Agency.
The strategy warns that a new approach to climate change is needed as the UK 'cannot win a war against water' by simply building higher flood defences.
As well as calling for a £1bn a year investment in traditional flood and coastal defences, it also recommends all new developments between now and 2030 to be resilient to flooding and coastal change. It also wants property owners to be encouraged to 'build back better' after a flood.
However, it also warns that some communities may need to be relocated as the scale of flooding or coastal change may be too significant.
Environment Agency chair, Emma Howard Boyd, said: 'We can't win a war against water by building away climate change with infinitely high flood defences. We need to develop consistent standards for flood and coastal resilience in England that help communities better understand their risk and give them more control about how to adapt and respond.'
Sir John Armitt, chair of the National Infrastructure Commission said: 'In many cases, we won't be able to stop flooding and coastal erosion. But that doesn't mean we should just accept it. We must ensure that communities are resilient and as our Assessment showed, this is affordable and achievable.
'It's essential that the government's National Infrastructure Strategy, published this autumn as part of the Spending Review, adopts our recommendation and backs this up with a robust and effective plan for funding and delivery.'
The Environment Agency is preparing for 4°C rise in global temperature under this strategy.