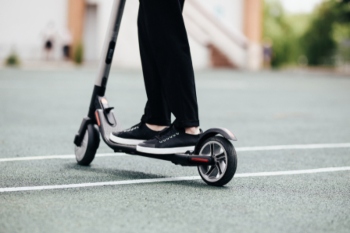 Local authorities will start hosting the trial of rental e-scooters from this weekend to help ease the burden on public transport as lockdown restrictions are lifted.
The trials will examine how effective e-scooters are reducing traffic, and will test their safety and green credentials.
Under the 12-month pilot, the devices will only be allowed on roads, cycle lanes and tracks, and speed will be limited to 15.5mph.
Transport minister, Rachel Maclean, said: 'As we emerge from lockdown, we have a unique opportunity in transport to build back in a greener, more sustainable way that could lead to cleaner air and healthier communities across Great Britain.
'E-scooters may offer the potential for convenient, clean and cost-effective travel that may also help ease the burden on the transport network, provide another green alternative to get around and allow for social distancing. The trials will allow us to test whether they do these things.'
Tees Valley mayor, Ben Houchen, has been calling for the e-scooter rental scheme to come to Teesside, Darlington and Hartlepool.
He said: 'Here in Teesside, Darlington and Hartlepool we are already at the forefront of clean energy and developing the technologies of the future. We already have an enviable reputation when it comes to offshore wind and, with the groundbreaking Net Zero Teesside project, we are now delivering the world's first industrial-scale carbon capture, utilisation and storage scheme.
'Bringing the UK's first road trial of e-scooters here will add another string to our bow for our clean energy plans.'