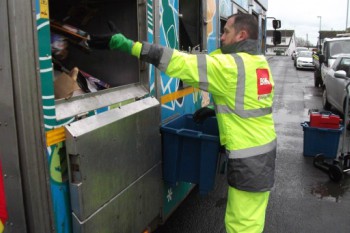 The introduction of tri-weekly waste collections has helped increase recycling rates by 10% in the past year in the Isle of Anglesey, new figures reveal.
Provisional data shows that the county council increased its recycling rate from 56% to 66% in 2016-17.
The tri-weekly residual waste service was rolled out in October 2016 in partnership with Biffa. The weekly recycling collection service centres on a new stackable trolley box system.
Meirion Edwards, the county council's chief waste management officer, said: 'Extending residual waste collection frequency to every three weeks has improved efficiencies, as well as helped focus residents' minds on minimising household waste.
'At the same time, we gave residents the means to easily recycle a wider range of materials by introducing mixed plastics collection, and made storing recyclables easier with the introduction of the trolley box. Taken together, they've worked very well to achieve our objectives.'