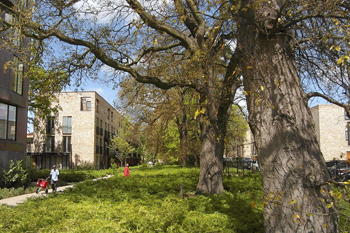 Trees have certainly risen high on the agenda in recent years from the declarations of a climate emergency by many local authorities and other organisations to the impact of the pandemic and lock-downs and the role of trees in supporting mental and physical health for humans as well as the quality of place, especially in urban areas where 80% of the population live.
Trees are becoming increasingly embedded in government policy with the England Trees Action Plan (ETAP) and its ambition to increase urban tree cover and the need for local authorities to have tree (and woodland) strategies and with the proposed changes to planning as a result of the planning white paper and expected changes to the NPPF as well as the detailed guidance for design codes provided by the National Model Design Code.
Alongside policy there is a confluence of ideas and government proposals including the updated Homes for a Healthy Life, the publication by Homes England of Streets for a Healthy Life and the revision of Manual for Streets. Alongside the climate crisis we also have the ecological crisis and so there is also a focus on the need for nature recovery and the role of nature-based solutions to achieve biodiversity net gain as proposed in the Environment Bill.
It is worth reminding ourselves of the multiple benefits that trees can deliver including human physical and mental health and well-being; carbon sequestration; improving air quality; working with SuDs schemes to manage surface water run-off; reducing the urban heat island effect; improving the environmental performance of lower rise buildings; supporting biodiversity; generally increasing urban climate resilience; enhancing financial value for development and generally providing a key ingredient of successful, long term placemaking – and all these benefits should be part of an ambitious tree strategy.
So, what is the single action that local authorities could take to ensure that trees on both public and private land are protected and that urban canopy cover is increased where needed? The solution that the Trees and Design Action Group has long considered essential is that every local authority should have a robust, evidence-based, stand-alone and, crucially, adopted tree strategy (not a sub-set of a green infrastructure strategy). This has the benefit of providing clarity by setting out the local planning authority's requirements and sets that level playing field for development that influences the developers' decisions and means that trees in the development are not expendable 'add-ons' or 'deletions', but are part of the essential infrastructure.
To develop a successful tree (and woodland) strategy several departments in a local authority should contribute to its production. This collaborative approach is the key to success and it would be unreasonable to expect a tree officer to undertake the task without support and inputs from at least the planning, highways and health departments.
It is also vital that the council's chief executive and elected councillors are supportive.
In these days of constrained budgets, it is also important to be confident about the value that a tree strategy will deliver and to have straight-forward guidance demonstrating how a tree strategy can be fully developed without extensive commitments to costs and time.
Fortunately, the Trees and Design Action Group can help. We have just published Section One of Trees, Planning and Development: A Guide for Delivery. It is supported by key industry partners – Royal Institute of British Architects, Royal Town Planning Institute, the Landscape Institute, the Town and Country Planning Association and the Arboricultural Association.
This has been developed in three sections and has been set out to provide a short accessible read with further detail provided in the main document and through a series of briefing notes and case studies. As with all TDAG documents, the outcome has been guided by a steering group and extensive reviews. The document will remain online only so that it can be periodically updated as required.
Section Two, due at the end of September 2021, will build upon the RIBA Plan of Work, this section will detail the mindset, skillsets, information and key steps needed at each stage of a building project to maximise the value that trees can add.
Section Three, due at the end of November 2021, will focus specifically on the role of the local planning authority from plan-making to development management and will present the simple steps LPAs can take to ensure development projects fulfil their potential to make the most of trees.
We welcome feed-back and comments and are interested in exploring opportunities for providing webinars for combined audiences in regional areas often in association with some of our partner organisations.
Sue James is convenor at the Trees and Design Action Group
Photo: TDAG