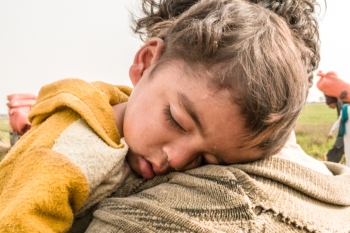 Councils will have to take in asylum-seeking children as the national transfer scheme is made mandatory.
The change to the previously voluntary scheme has been brought in as a temporary measure to ease pressure on authorities on the south coast, which are facing an increased number of arrivals from across the English Channel.
Kent CC is currently supporting 378 children, close to the level at which the authority refused to accept new arrivals earlier this year.
The new mandate will apply to the 217 councils responsible for children's services, which will have two weeks to make a case to the Home Office if they are not willing to support any more children.
Today's move follows comments by home secretary Priti Patel in the House of Commons yesterday that the 'whole of the United Kingdom needs to step up and play its part'.
She claimed 31 local authorities out of the 32 in Scotland have refused to participate in the dispersal scheme.
Ms Patel added the Home Office had been doing 'everything possible to provide local authorities with financial support and assistance, but certain councils around the country still say no'.
President of the Convention of Scottish Local Authorities, Cllr Alison Evison, hit back at 'unjustified accusations'.
Chairman of the Local Government Association, Cllr James Jamieson, pointed out that the 'majority of councils have stepped forward voluntarily,' adding: 'Councils continue to face challenges in finding appropriate homes, with ongoing issues around centrally-led age assessment and delays in decision-making adding uncertainty for both councils and young people.
'These new arrangements must continue to swiftly take into account existing pressures in local areas, with greater join-up across Government to improve engagement with councils on all the programmes that support new arrivals to start new lives in the UK.'