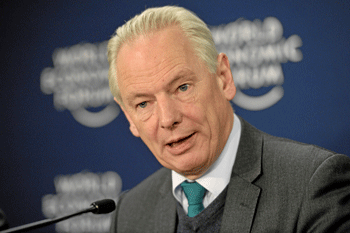 Conservatives have pledged to tighten laws surrounding trade union strikes if they take power in the 2015 General Election.
Under plans revealed this morning, the next Conservative government would introduce a threshold requiring at least 50% of union members to vote in any strike ballot for the result to be lawful.
Such a move would effectively require a 'double majority' for industrial action, necessitating an absolute majority of those eligible to vote participating in the ballot and a simple majority in favour of action.
The announcement came just a week after over one million public sector workers took part in walk outs across the country against a pay rise offer of only 1%.
Unions today slated the Conservative plans, with Unite pointing to research that shows politicians and councillors are elected on lower turnouts than 50%.
Cabinet Office minister Francis Maude said the Conservatives would also reform laws to make illegal picketing a criminal offence.
Maude said: 'I've always said that unions can play a constructive role in the modern workplace. But I've also warned that the more that union leaders pushed for disruptive strike action without even persuading a majority of their members to vote, the stronger the case would become for changing the law.
'This sensible and proportionate package of reforms will help protect hardworking families and British businesses as part of our long-term plan to build a stronger economy.'
Responding to the news, Unison's head of local government, Heather Wakefield, said: 'Trade unions in the UK are already bound by some of the strictest industrial action laws in the world, and the only countries in the EU that have statutory thresholds for strikes are Romania and Bulgaria. And, in both these cases, the International Labour Organisation has stated that these thresholds breach international law.
'If the Government wants to reform strike laws, it must recognise that the current laws requiring a full postal ballot of members to their home addresses is outdated. Unions are organised in the workplace, and should be allowed to use modern methods of balloting, such as using workplace addresses, phone or online voting.'
Len McCluskey, Unite general secretary, said last week: 'It is utter hypocrisy for the Government to talk about mandates for trade unions when not a single member of the present cabinet would have been elected using the same criteria.
'The fact is not a single councillor in England has won 50% of the electorate, not a single MEP has reached the 50% threshold, Boris Johnson scraped in with just 37% in 2008 and the Government's flagship Police Crime Commissioner election gained a risible 17% of the vote.'
TUC general secretary, Frances O'Grady, said that there while there was 'absolutely no case for imposing a tougher turnout threshold – that not a single Westminster MP met at the last election' unions were 'keen to explore ways that industrial democracy could be strengthened'.