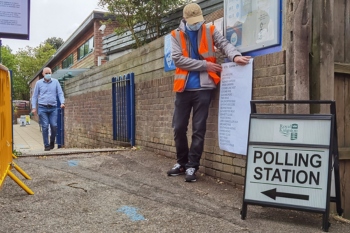 The Conservatives could lose 800 councillors in next month's local elections, new polling has suggested.
Election experts Electoral Calculus and pollster Find Out Now have predicted a swing of 5pc to Labour away from Conservatives.
The polling found that while the Tories are likely to lose only a few councils, Labour is set to gain about 800 councillors and around 20 councils.
Martin Baxter, CEO of Electoral Calculus, said: 'If the actual results are similar to our predictions, then Boris Johnson will be spared new backbench pressure to unseat him.
'Although the Conservatives will lose some ground in these local elections, it doesn't look like a catastrophic defeat, and that is a good result for them after their poor poll ratings post-Partygate.'
The polling suggests the Conservatives will lose Barnet, Harlow, Newcastle-under-Lyme, Southampton, Thurrock, and Wandsworth. However, they could gain Elmbridge, Havering, North Yorkshire (new), Pendle, Vale of Glamorgan, and Worcester.
The Liberal Democrats are predicted to win control of the new Somerset unitary authority.