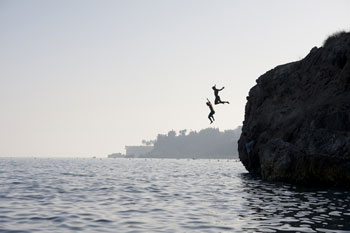 Young people jumping from great heights into water unsupervised - a practice known as 'tombstoning' - could be risking death or disability, councils and fire chiefs warn.
Many youngsters are attracted to 'tombstoning' in the summer months despite the dangers including shallow water, hidden rocks, cold water shock and strong currents and changing tides.
The latest figures reveal the practice has led to an average of two deaths a year over the past 10 years.Last month an 11-year-old boy died after reportedly 'tombstoning' from a bridge into a canal in Rotheram.
Between 2005 and 2015 the Coastguard dealt with more than 200 incidents of tombstoning, with 83 injuries and 20 deaths.
The Local Government Association (LGA) is calling on the Government to extend an awareness raising campaign by the Maritime and Coastguard Agency on the dangers of jumping into water to schools nationwide.
'Tombstoning is extremely dangerous and grim statistics show that anyone doing it could kill themselves or end up with life-changing or serious injuries,' Cllr Simon Blackburn, chair of the LGA's Safer and Stronger Communities Board, said.
'Young people across the country, not just those living near the sea, need to be aware of the dangers as they also relate to inland rivers and canals.
'We are calling on the Government to extend a campaign by the Maritime and Coastguard Agency on the dangers of jumping into water and cold water shock to schools nationwide as the dangers exist for everyone, particularly vulnerable teenagers playing games of dare.'
'There are plenty of things young people can do to enjoy themselves during the summer holidays - but tombstoning is definitely not one of them,' he added.
Last August, Salford Quays introduced a Public Spaces Protection Order (PSPO) prohibiting 'tombstoning'. Anyone caught jumping from bridges there could face a fine of £90.