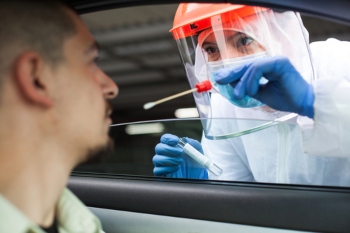 The Government has invited areas in tier 3 to apply for support for community testing as part of the effort to detect asymptomatic cases of COVID-19.
Local authorities in Tier 3 areas, the highest level of restrictions, can apply for the new six-week community testing programme to complement wider local strategies to tackle the virus.
'By expanding our testing to include people showing no symptoms, we are finding more positive cases more quickly and breaking chains of transmission,' said health and social care secretary Matt Hancock.
'Up to a third of people have coronavirus without symptoms, so it is incredibly important to be testing those who could be infecting others unknowingly.'
The Government said it would work with local authorities to identify how community testing might be used to help areas in Tier 3 move down to a lower tier. This will be backed by national support and funding.
'I know people in the top tiers are facing a particularly difficult time, which is why we are supporting them with mass community testing to provide a route towards lowering the level of restrictions they face,' said Mr Hancock.
'We are committed to working with local areas to make this work for their communities and I encourage all those living in areas where community testing is offered to come forward and get tested.'
This offer builds on the community testing pilots which are taking place in Liverpool and Merthyr Tydfil.