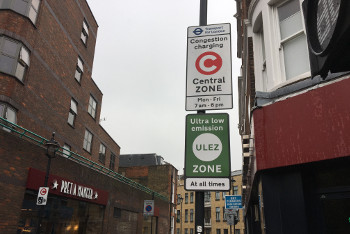 A new report has called for London to move towards a new road user charging scheme that charges drivers on a per-mile basis.
The report, Green Light: Next Generation of Road User Charging for a Healthier, More Liveable London, is published by the Centre for London think tank.
It says costs would vary by vehicle emissions, local levels of congestion and pollution and availability of public transport alternatives – and prices would be set before the journey begins.
The scheme would be integrated with London's wider transport system via a new app and digital platform, which the report proposes would be run by Transport for London.
The scheme, which the report calls City Move, would provide Londoners with more choice about how they travel around the city. City Move would utilise the latest technology to give Londoners all their travel information in one place, allowing them to compare, plan and pay for journeys. Drivers, for example, would be presented with costs and impacts of using their vehicle versus alternative modes of transport.
The report emphasises the need to update the existing system; while the new Ultra Low Emission Zone (ULEZ) is said to be a much-needed environmental measure, it comes on top of the existing Congestion Charge, and proposed charges for the new Silvertown and Blackwall tunnels.
It suggests that this means that by 2025, London could have at least five separate road user charging schemes, each featuring different vehicle standards, hours of operation, charge amounts and payment arrangements.
Silviya Barrett, research manager at Centre for London said, 'The Congestion Charge was pioneering when it was introduced 16 years ago, and the ULEZ is desperately needed to address a growing air quality crisis.
'But new technologies are rapidly transforming the way people travel – and how they pay for their journeys. It is time for London's approach to road user charging to keep up with the pace of change.'
This story first appeared on Transport Network