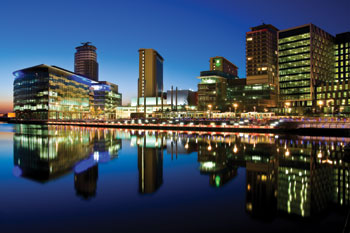 Greater Manchester is the UK's second most economically powerful city region after London with a larger economy than both Wales and Northern Ireland.
As the heart of the Northern Powerhouse and home to the north's hub airport (serving more than 210 destinations worldwide) the success of Greater Manchester is key to the success of the north.
The importance of the region to UK Plc was reflected in the significant national media interest generated by Andy Burnham's unveiling of the new Greater Manchester Spatial Framework (GMSF) after an almost two year wait.
Aided and abetted by some eye-catching proposals such as a presumption against fracking for shale gas, (a first in England, but not yet legally enforceable) and the UK's first Mayoral Development Corporation for a town, the GMSF presented a forward-thinking and engaging vision for the future of the city.
Its ambition is bold – to make Greater Manchester a top global city region alongside the likes of Barcelona, Greater Boston and the Greater Toronto Area – by the end of the GMSF period in 2037.
In addition to the national media attention the document has sparked a lot of regional debate.
The first GMSF released in October 2016 received more than 27,000 responses and raised a lot of objections from residents concerned that:
The burden of development was excessively weighted towards green sites;
This site selection would not result in the building of new homes people could afford; and
It could add pressure on a congested road system with development linked by roads rather than public transport.
The second coming
So what does Andy Burnham's re-written GMSF, entitled Greater Manchester's Plan for Homes, Jobs and the Environment, mean for property across Greater Manchester's 10 boroughs?
A brownfield first approach to development;
Building at higher densities in town and city centres;
The provision of almost 2.5m sq metres of new office floorspace and 4.2m sq metres of new industrial and warehousing floorspace across Greater Manchester over the next 18 years;
Plans for 200,000 new homes including 50,000 affordable homes of which 30,000 will be for social rent; and
And a 50% reduction in development on the Green Belt.
During his mayoral campaign Andy Burnham called for the GMSF to reduce Green Belt land release by 80% but the combined authority has reduced development on Green Belt land by 50%.
This change in tack has led some local property commentators to speculate that the new GMSF is like Theresa May's EU Withdrawal Deal in that seeking to satisfy the concerns both residents and developers it risks pleasing no-one.
However, given the public strength of objection to the first iteration the second coming feels more like a grand compromise between Greater Manchester's 10 borough councils and the competing needs of residents and developers.
The revised document goes a long way to addressing the concerns of residents while providing plenty of sites for transformational developments.
To put any concerns into perspective that the GMSF is not developer friendly the plans still contain enough development land to cover more than 1,000 National League-size football pitches.
How has this compromise been achieved? By focusing on development which regenerates and enhances the main town centre locations in Greater Manchester's boroughs and by making more efficient use of land by building at higher densities in urban locations (particularly in Manchester, Salford, Stockport and Bolton) the GMSF has reduced the amount of development taking place in rural and suburban areas.
The most telling achievement of this policy is perhaps most evident in Bolton where no green belt land will now be used to build any of the 13,940 homes in the borough so the Green Belt sites have now been safeguarded for the best part of 20 years as has protected open land, such as Hulton Park, Bowlands Hey and Lee Hall.
Having formed a partnership with Bolton Council in 2011, Public Sector Plc has seen first-hand how an urban first approach can change perceptions of a town and improve their prospects, as was achieved by delivering five stories of now fully-let Grade A office accommodation at the Bolton Central development, next to the town's new transport interchange.
The GMSF will also continue to build on the enormously successful regeneration of Manchester city centre where nearly a quarter of the total target of new homes in Greater Manchester (50,000 new homes) and almost 1.5m sq metres of new office floor space will be delivered.
To enable the plan to walk the Green Belt tightrope the GMSF also proposes giving 65 patches of land Green Belt status and creating new Green Belt land in every Greater Manchester borough except Manchester.
Concentrating development in urban locations also helps the GMSF to achieve the aims of Andy Burnham's Town Centre Challenge which will lead to the regeneration of Greater Manchester town centres by creating new business, retail and cultural offers, more town centre housing, and public-sector hubs which could see more co-located services such as medical, social care, hospital, police, fire and council services.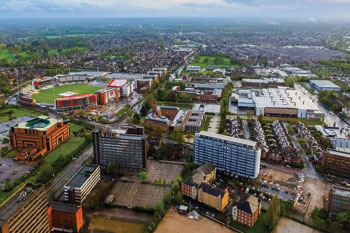 Closing the North-South economic divide
Like Britain as a whole, Greater Manchester also has an economic divide between north and south which has resulted in lower growth in the northern boroughs.
A key aim of the GMSF is to make growth more inclusive by spreading prosperity across Greater Manchester by boosting the competitiveness of the northern boroughs and to use land and property to do it. This means: Increasing investment in the town centres of Ashton-under-Lyne, Bolton, Bury, Oldham, Rochdale and Wigan;
Delivering more high-quality public transport routes to improve connections to the economic hubs of Manchester city centre and Manchester Airport; and Increasing the attractiveness of the northern areas to a wider range of people, particularly higher income households, entrepreneurs and skilled workers who can increase business creation and support economic activity. Sites allocated to attract higher earners include: Robert Fletchers Mill in Oldham, Bamford/Norden in Rochdale and East of Boothstown in Salford. Space to grow
Re-balancing the economy is particularly important to boroughs like Rochdale which traditionally has experienced the highest levels of emigration of residents to other boroughs.
As the second largest borough blessed with more than 50% of its land area as designated Green Belt, Rochdale Council uses these assets to market the borough to both business and families as the space to develop and grow.
The Northern Gateway, the largest employment opportunity in the spatial framework, a nationally significant growth area, which includes the successful business locations of Kingsway, Stakehill and Heywood has seen a number of sites in Rochdale earmarked for development. These include South Heywood, the largest employment opportunity in the region with a total of 1.2m sq metres of employment space shared across Rochdale and Bury.
As Rochdale Council's Mark Robinson, assistant director of economy, says: 'Rochdale has invested in its schools and is home to excellent colleges giving residents the skills and ambition needed in the workplace, but this has not always been matched with the quality of jobs we have been able to offer within the borough.
'The GMSF gives us a once in a generation chance to change that and create the jobs and quality of housing that people need to build a future here.
'The most exciting thing for us is the scale of the opportunity and having a golden chance to deliver a legacy for Rochdale over next 20 years by transforming a borough which is located at the heart of the Northern Powerhouse but has historically underperformed and perhaps previously not been at the front of the queue when investment decisions were being taken.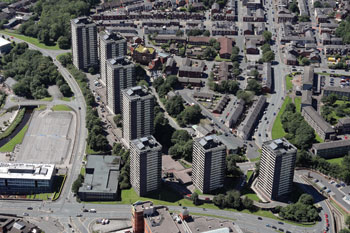 Turning co-operation into growth
As Richard Roe, corporate director of place at Trafford Council explains, one of the great benefits of the GMSF is the opportunity it provides for all boroughs to sit down and think through how to make the most of Greater Manchester's assets and opportunities at a strategic level and how to spin out the benefits to other boroughs.
Trafford Council is using this to good effect by working with Manchester Council to maximise the benefits of Manchester's Airport City project, a £1bn development to deliver 5m sq metres of offices, advanced manufacturing and logistics facilities.
This has led to a recommendation to develop Timperley Wedge with plans for 2,400 homes, including 30% affordable, close to the proposed new HS2 station for Manchester Airport.
Richard says: 'On the Trafford side of the airport there's a huge opportunity for economic and residential growth. The GMSF provides an opportunity to think about impact of major national important infrastructure and how the entire GM conurbation can benefit. This is genuinely a plan for the whole of Greater Manchester.'
One of the most striking examples of this is the Wigan-Bolton 'Growth Corridor' which proposes taking advantage of the M6 logistics hub in Wigan and potentially creating a tram-train, in addition to new roads and Rapid Bus Transit to better integrate the strong logistics function of the M6 corridor into the wider city region.
This would help to drive major regeneration for a number of deprived neighbourhoods across central Wigan and into south Bolton.
As the birthplace of the co-operative movement Rochdale has taken inspiration from Sheffield and Rotherham's co-working on the creation of the Advanced Manufacturing Park in Waverley.
By working with Bury and the GMCA, Rochdale Council is aiming to create an advanced manufacturing cluster of national significance at the Heywood site. As an organisation which has created partnerships with 22 local authorities across England, Public Sector Plc understands the importance of co-operation within and between local authorities.
However, unless it is harnessed correctly, co-operation does not always result in growth being realised.
The GMSF also provides a platform for future growth driving Wigan Council, another of our local authority partners, to launch its plans to harness the huge potential of becoming a HS2 hub. In taking the decision not to rely solely on the private sector, Wigan is identifying interventions that the council can lead on and work with private sector partners to create new opportunities in the town centre.
While local and regional plans are primarily proposals for land and development, what's clear from speaking to the boroughs involved is that over and above everything it's a plan for people.
While admittedly starting from a high base Trafford Council has done well to develop assets to help people from all backgrounds to get on in life.
Historically, as one of the best local authorities in Britain for secondary school education, Trafford also supports and invests in its assets to ensure they can continue to thrive, such as Trafford Park, still one of Europe's largest business parks and home to 1,300 businesses employing more than 35,000 people.
In Trafford the new university, UA92, being developed by former Manchester United players and Lancaster University, supported by the council, is designed to enhance life skills as well as employability for those who wouldn't traditionally go into higher education.
This theme of inclusive growth and creating opportunities for all is key across Greater Manchester. As Mark Robinson says: 'Rochdale borough's employment rate is just 67.9%. (83,000 jobs) This is 5.1% below the Greater Manchester average and 7.1% below the GB average.
'The Plan is about developing our people as much as places. Why are we trying to bring forward a million square metres of employment space? We have high levels of worklessness and a high proportion of people with low skills levels and on low wages.
'Above all the GMSF is a chance to support our people to get on in life and give them opportunities they haven't had in the past.'
While Greater Manchester is not there yet this sounds like a region laying the foundations for development which will one day make the north's economic powerhouse a top global city.
Paul Brown is northern region director at Public Sector Plc