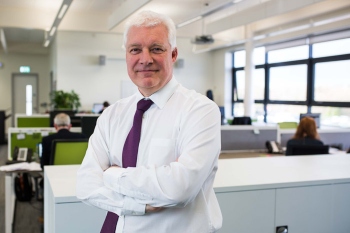 One year ago, when the UK government brought into law a commitment to achieve net zero carbon emissions by 2050, it could not have foreseen the impact of a global pandemic on our economy or on our environment. Even before the pandemic the rate of change in the transport industry was considerable.
Now, after months in lockdown with a slow economic recovery ahead and reports that global CO2 emissions will shrink by at least 2.5 billion tonnes or 5% this year, the UK government has set its sights on a green transport revolution and a green economic recovery.
As we emerge from the initial grip of the COVID-19 pandemic local authorities will be concerned about long-term social distancing and the challenge that brings to cost-effective public transport. Combine this with the announcement in February of this year that the government is intending to bring a ban on the sale of new petrol, diesel and hybrid vehicles forward five years to 2035, and local government and city authorities sit on the precipice of a transport transformation.
As part of an organisation dedicated to reducing transport CO2 emissions, I am expecting that the decrease in global pollution we have experienced during this unprecedented time will help to accelerate the UK's transition to net zero emissions.
Localised national policy will be vital in achieving this. Cities are powerful authorities that can instigate changes quickly and respond to specific challenges such as the need to improve air quality. In recent years we have seen cities like London, Paris and Oslo drive the market towards a significant uptake in electric vehicles thanks to extensive low / zero emission zoning. In the next 15 years leading to 2035 I expect to see this sort of response in many more cities and local areas.
In 2013, the Advanced Propulsion Centre (APC) was set up with an initial £1bn funding remit as a collaboration between UK government and the automotive industry. Just six years in, the APC has funded 113 low-carbon projects involving more than 290 partners and the technologies developed in these projects are projected to save over 225 million tonnes of CO2 - the equivalent of removing the lifetime emissions from 8.8 million cars.
Recent announcements by chancellor Rishi Sunak committing investment for a greener automotive future have put the APC, based at the University of Warwick, at the heart of the UK government's commitment to reduce transport CO2 emissions through delivering the next generation of low-carbon vehicle technologies.
In the coming months and years, the APC will consult and collaborate extensively on behalf of local authorities, government, industry and academia to build a stable solution for a future of electrification and other new zero emission technologies.
Moving to net zero carbon emissions presents significant opportunities for the UK economically as well as environmentally. The APC, recently released its 'Strategic UK opportunities in passenger car electrification' report, which identifies a potential £24bn boost to the UK economy in the future manufacture and supply chain for electric vehicles.
Our research is continually building a picture of the automotive industry's future, with industry consensus roadmaps that forecast the trajectory of vehicle and supporting technology development, allowing local authorities to be aware of the latest technological advancement and thus formulate policies accordingly.
Achieving this seismic shift in how we move around will not come easily; however, through small adaptations in public transport solutions and low emission zones specific to their needs, local authorities have the power to influence broader societal changes that will support in the journey to a low-carbon future.
Jon Beasley is director of technology & projects at the Advanced Propulsion Centre