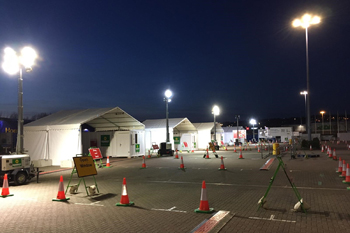 Local authorities have long been seen as the fourth emergency service, needing to respond quickly and effectively to a huge range of incidents. While some emergencies can be foreseen to some extent - many areas across the country are unfortunate victims of flooding on a fairly regular basis - others such as the current pandemic are more difficult to predict.
Whether it be a health crisis or a terror attack, councils play the lead role in immediately keeping communities safe and eventually ensuring their local area recovers from any incident. But who do local councils turn to in their time of crisis?
LocalGov caught up with Sunbelt Rentals - the UK's largest rental company - to find out more about how they are supporting councils' response to crisis situations.
While many councils are already customers of Sunbelt Rentals, until the end of 2019 the company was operating under 23 separate brands, including the well-known A-Plant. The decision to bring the different brands under one umbrella gave consistency to customers while still maintaining their specialisms and expertise.
Not long after this move, the company was able to demonstrate exactly why it is the 'go-to' infrastructure provider for the public sector, through its work delivering the regional and local COVID-19 testing centres. Sunbelt Rentals was approached to set up drive-through testing sites in Greenwich and Wembley.
The day after surveying the sites, it took Sunbelt just 12 hours to build them. Even more incredibly, it was not just the testing units delivered in this very short timeframe but a whole plethora of products and services such as lighting, traffic management, safety products, wi-fi, miles of fencing and all the wrap-around services such as fresh water and fuel.
Andy Wright, CEO of Sunbelt Rentals, explained it was the sheer number of products in the company's control that made this possible: 'We had to make some pretty brave decisions in the beginning as it was very difficult to get any level of comfort over what the Government actually wanted from us or for how long they would need our help. We spent £60m-£70m on new equipment to support the COVID-19 site rollout, more than doubling our capital budget for the year. However, the Government was relying on us to provide this level of support and we felt very strongly about stepping up and playing our part in the project.'
Sunbelt Rentals has now delivered more than 460 sites, including walk-in testing centres for people living in inner cities without access to a car.
Geoff Fawkes, business development director - government of Sunbelt Rentals, added: 'This was an incredible turnaround and now means that the department of health and social care see us a key infrastructure provider.'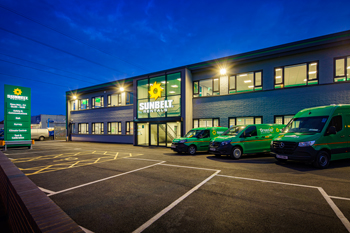 Andy and Geoff were keen to reassure local authorities that work on the regional testing centres has no impact on supporting areas with other emergency situations. Sunbelt currently holds £900m worth of assets in the UK alone, through 19 specialist national business units.
Andy explained: 'Temporary infrastructure provision is something councils require on a regular basis such as dealing with a flood, bird flu or other events. If councils have to coordinate services from multiple suppliers it becomes a difficult thing to do and we can help take that headache away, leaving them to deliver what they do best.'
Geoff added: 'Given how much councils' budgets have been squeezed, working in partnership with us means they don't need to think about capital expenditure or maintenance as we provide the full service and quality assets. We are there, as and when they need us.'
While it may be this breadth and depth of services that initially convinces local councils to work with Sunbelt Rentals, they also explained it's the type of company they are that offers local government a 'good corporate citizen' to work with.
Sunbelt Rentals has a Sustainability 2025 strategy, covering various social value initiatives to create local social impact – for example, around decarbonisation and the environment (low carbon and better air quality for local areas). There are also a wide range of social projects, which include giving employees time off to volunteer with local charities, providing local jobs and apprenticeships for ex-offenders and ex-service people, each time using their distinct local knowledge to really understand what each local council wants and needs.
Sustainability is also a key part of the company's strategy, as Andy explained: 'Rental is the perfect circular economy as it helps people from buying less equipment. A lot of our products have previously used fossil fuels but we are now making a big investment in hybrid and solar technologies.
Geoff also outlined how the use of telematics was allowing councils to measure the reduction in their carbon footprint, as they can monitor the cost of fuel and CO2 emissions for many types of equipment.
While the very nature of an emergency means that councils can only be so prepared for what may occur in the future, at least they can rely on Sunbelt Rentals as an essential frontline service provider.
For more information call 0330 433 1766, email localauthorities@sunbeltrentals.co.uk or visit www.sunbeltrentals.co.uk
This feature was prepared in partnership with Sunbelt Rentals.