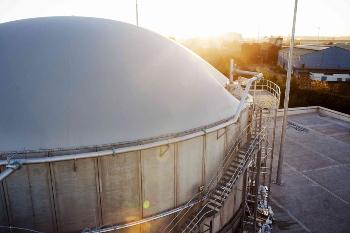 It's clear that England's current fragmented household waste collection system needs overhauling, not only to provide consistency for residents, but also to halt the downturn in recycling rates.
England has not met the government target to recycle 50% of waste from households by 2020; in fact, in 2020, the 'waste from households' recycling rate was 44%, down from 45.5% in 2019. And while separately collected food waste rose by 11% in 2020, it remained only a small proportion of total 'waste from households', at just 2.2%.
This is largely because, according to 2018/19 figures from WRAP, almost half of England's 326 local authorities – 160 councils – do not provide any food waste collections. A total of 115 councils provide a separate food waste collection service, sending this valuable organic resource to anaerobic digestion (AD) plants where it is used to produce biogas and biofertiliser. A further 38 provide co-mingled food/garden waste collections, with both fractions going to in-vessel composting (IVC); while 13 councils offer a mixture of the two systems.
Boosting organic waste collections
The Environment Bill, which received royal assent in November 2021 following a government consultation, contains proposals to roll out separate, weekly household food waste collections across England by 2023. Plans include the introduction of statutory guidance on new minimum service standards for rubbish and recycling collections, and a minimum service standard of residual waste at least once a fortnight, alongside the weekly collection of organic waste.
While this news has been welcomed by the AD industry, local authorities that currently provide co-mingled food/garden waste collections are hoping this will not mandate a potentially expensive dismantling of their current successful infrastructure and vehicle fleets.
Separating food waste from co-mingled streams
Thankfully, technological innovations are enabling councils to fulfil separate food waste collection obligations without replacing existing co-mingled vehicle and collection infrastructure.
By separating solid wastes into wet organic and dry fractions, and thereby extracting the food waste fraction from co-mingled waste streams, such systems have the potential to boost food waste recycling rates while enabling existing co-mingled collections to remain in place. The clean food waste fraction can then be sent for processing at an AD plant, helping to contribute towards to the country's GHG reduction and renewable energy generation ambitions.
The ability to separate food waste from the co-mingled waste stream in a way that makes it suitable for processing via wet AD is crucial because the Food and Drink Waste Hierarchy has identified AD as the optimal technology for the recycling of all inedible food waste. The hierarchy is used to inform councils' decisions on the technologies they should use to process any collected food waste.
A sensible solution
As local authorities and the waste industry alike await government guidance relating to the Environment Bill, there is hope that common sense will prevail. Instead of removing existing co-mingled collections, enabling them to remain in place with the support of efficient technological solutions can deliver the best of both worlds: improved food waste recycling rates without the need to dismantle successful collection systems.
Simon Christian is the business development director for waste management and renewable energy specialists Anaergia UK