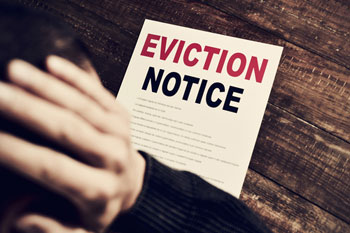 A campaign group has called for a reform of eviction laws to provide tenants with protection against unscrupulous landlords.
An analysis by Generation Rent has found that just one in every 20 private renter who complains to the council about poor conditions in their home gets protection from a revenge eviction.
The data, which was obtained under the Freedom of Information Act, also revealed that even when a severe hazard is found in a rented home, tenants only get protection from eviction in one in every five cases.
Section 21 of the 1988 Housing Act allows landlords to end tenancies outside of fixed terms without needing a reason.
Under the Deregulation Act 2015, Section 21 evictions are invalid for six months when the council has served an improvement notice on the property. There must normally be a severe 'Category 1' hazard in the property for the council to take this action.
Generation Rent made Freedom of Information requests to 102 councils covering two-thirds of England's private renter population.
The 99 councils that responded received a total of 67,026 complaints about housing in 2017-18, but served just 3043 improvement notices on landlords. That means just 5% of people who complained ended up being protected from eviction.
'These figures demonstrate that despite powers and protections, tenants living in squalid homes are being let down by their councils,' said Dan Wilson Craw, director of Generation Rent.
'If landlords are free to evict tenants who complain about disrepair then we cannot expect the quality of private rented homes to improve.'
On Wednesday, the Homes (Fitness For Human Habitation) Act comes into force, giving tenants the ability to take negligent landlords to court rather than rely on their council. However, successful tenants will still not be protected from eviction without their council taking action.
'The new Homes Act gives tenants with an unreliable council an alternative route to force landlords to fix problems, but they are still at risk of eviction,' said Mr Craw.
'Tenants have a right to a safe home, but can only exercise it if the government stops landlords from evicting without needing a reason.'