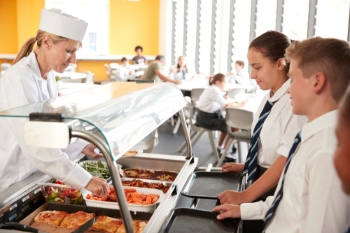 Teaching unions have called on the Government to extend free school meals to all families on Universal Credit (UC).
The unions, who represent over one million people working as teachers, school and trust leaders, support staff, and governors and trustees, have written an open letter warning that the cost of living crisis means that some children are struggling to afford a school meal.
This is impacting the health and ability to learn of pupils, and also threatens the viability of catering services, the unions said.
'We see the devastating reality of children coming to school unable to afford to buy lunch, because their family circumstances mean they fall outside the restrictive free school meal eligibility criteria,' they wrote.
'The Food Foundation's latest data indicate an estimated 2.6 million children live in households that missed meals or struggled to access healthy food during April. Excluding so many vulnerable children is a real barrier to learning and must be urgently addressed.'
The unions, including the Association of School and College Leaders (ASCL), the National Education Union (NEU), and the Confederation of School Trusts (CST), said the ideal solution was to provide free school meals to all pupils as happens in Scotland and Wales.
However, they said that the 'immediate first step' should be expanding free school meal eligibility criteria to all families receiving UC or an equivalent benefit.
'We, as representatives of our nation's school professionals, believe this is a quick, effective and highly targeted way of delivering on the levelling up agenda and will support schools in delivering vital educational outcomes for all children,' they wrote.