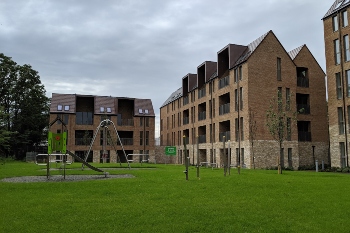 The London Borough of Sutton has completed its first programme of new council house building in three decades with the delivery of nearly 100 homes.
The council has built 93 new homes. Fifteen houses were finished in October last year, and now 21 new houses and 57 new flats are ready for occupants.
The project was funded thanks to changes in financial regulations which now allow local authorities to borrow to build council housing. The council also used money raised from right-to-buy sales.
'Our key objective has been to focus on quality for these new homes, as we believe that all our residents deserve a good-quality place to live, improving their life chances, the local area and the wider urban environment,' said Jayne McCoy, deputy leader of Sutton Council and chair of the Housing, Economy & Business Committee.
'We are investing significantly in the future of the borough. These are first-class homes we are proud of and they rightly set a high design benchmark for the private developers we seek to attract.'
'This year marks 100 years of social housing,' Cllr McCoy added.
'The housing crisis is particularly severe in London and our new programme of council house building recaptures the ambition of 100 years ago and is a tangible example of what we mean by Ambitious for Sutton.'?