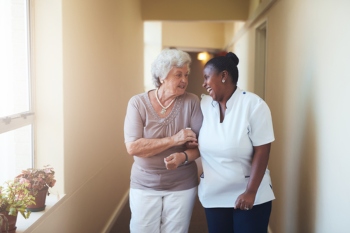 Frontline social care workers are paid nearly £7,000 less per year than their peers in equivalent positions in other public funded sectors, a new report has uncovered.
The Unfair To Care report, published by Community Integrated Care, found support workers are being 'undervalued' by as much as 39%.
The analysis found the average pay for support workers in England is £9.05 per hour, while other roles with equivalent scope, complexity and accountability within other public funded sectors are, on average, paid at £24,602.
The average take home pay for equivalent jobs in the NHS is £25,142, so the report warns many social care workers would need a 42% pay rise to have parity with their NHS peers.
Mark Adams, CEO of Community Integrated Care, said: 'The moral case for investment in social care and its workforce has, sadly, been ignored for years. This research now provides cold hard facts, which surely cannot be ignored by the Government. Our research proves that in other related sectors, many frontline support workers would be getting paid at least £6,907 more per year, and almost £7,500 within the NHS. This is immoral, illogical, and cannot be justified.
'This is a significant challenge, but it can be fixed – firstly, by recognising the £46bn contribution that social care makes to the UK economy annually, and also delivering progressive reforms that improve efficiency and quality of live through delivering joined-up services, reducing the burden on family carers and embracing innovations. All evidence points to overwhelming public support for investment in the sector. This is an issue of strategy and focus, not of possibility.'
The report calls on the Government to give an immediate pay rise to all frontline social care workers and urgently implement a social care workforce strategy.