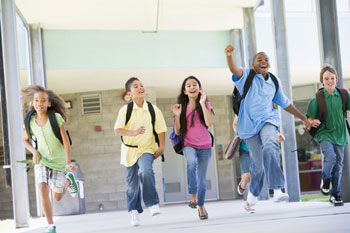 New guidance for secondary schools to help progress plans for summer schools once they return from the Easter break has been published.
Using the £200m of funding announced in February, summer schools will help pupils who have experienced the most disruption as a result of the pandemic.
The guidance, published yesterday, will provide advice ranging from academic support to sports and activities, mental health and wellbeing advice, and guidance for accessing premises.
The Government will also work with a national supply contractor to give extra support for councils to deliver the Government's expanded Holiday Activities and Food programme (HAF).
Education secretary Gavin Williamson said: 'I know many students, parents, carers and teachers are in equal measures anxious and excited about what this summer might bring.
'That's why we're providing clarity, issuing guidance as early as possible, so we can make the most of these opportunities. It will give local authorities, parents, carers and teachers the notice they need so they can make their summer plans to prepare large numbers of incoming year 7s for their first experience of secondary school, and to make sure the most disadvantaged children can make the most of the school holidays through the Holiday Activities and Food programme.
'I am confident this summer of enrichment and engagement in academic work will be a great success, tailored to local circumstances by their local authorities and also the wonderful heads and teachers who best understand the needs of their students.'