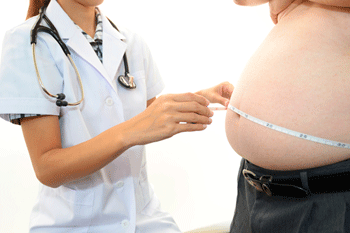 The UK is facing an obesity 'crisis' with the majority of people expected to be overweight by 2030, new research is warning.
A report from the World Health Organisation (WHO) forecasts that 33% of women will be obese by 2030, with 63% being overweight. For men, it is expected nearly three-quarters (73%) will be overweight by then with 36% becoming obese.
Dr Laura Webber from the UK Health Forum, said: 'Our study presents a worrying picture of rising obesity across Europe. Policies to reverse this trend are urgently needed.
'Although there is no 'silver bullet' for tackling the epidemic, governments must do more to restrict unhealthy food marketing and make healthy food more affordable.'
The research looked at all data from 53 countries comparing the proportions of overweight and obesity in 2010 with projected 2030 levels. It concluded that most countries will see 'significant' rises in overweight and obesity rates, and calls for more to be done to prevent the problem.