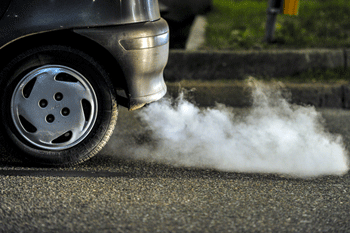 Those exposed to high levels of air pollution are more likely to use mental health services, a new study has revealed.
Researchers from the University of Bristol discovered that people recently diagnosed with psychotic and mood disorders were more likely to use secondary mental healthcare services if they were exposed to higher residential levels of air pollutants compared to those exposed to lower air pollution.
The study found that an increase in air pollution increases the risk of someone needing an inpatient stay or needing community-based mental healthcare after their initial diagnosis.
This suggests that tackling air pollution could help reduce healthcare costs and improve outcomes for those with these disorders.
Dr Ioannis Bakolis, senior lecturer in Biostatistics and Epidemiology at the Institute of Psychiatry, Psychology & Neuroscience (IoPPN) King's College London and lead author of the study, said: 'Our research indicates that air pollution is a major risk factor for increased severity of mental disorders.
'It is also a risk factor that is easily modifiable which suggests more public health initiatives to reduce exposure such as low emission zones could improve mental health outcomes as well as reduce the high healthcare costs caused by long-term chronic mental illness.'
The researchers found that reducing the UK's urban population's exposure to PM2.5 to the World Health Organisation's recommended annual limit would reduce usage of mental health services by around two per cent.