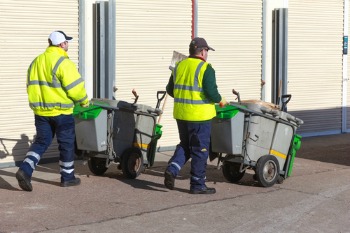 Workers at Brighton and Hove will this week begin industrial action over pay and allowances, potentially affecting services for 'months to come'.
GMB members employed by the council's Cityclean service as refuse and recycling drivers will begin action short of a strike from tomorrow, with an initial one day of walk outs on Monday 15 September.
Union leaders pointed to 'long standing' issues it held with Brighton and Hove over pay and allowances, accusing the council of failing to honour agreements or consult 'meaningfully' over new working practices. While concerns were raised about pay and grading of drivers, the local authority claims no wage reduction or loss of pay has arisen.
GMB said continuous action would 'unfortunately' see the service 'affected potentially for weeks or even months to come'.
Mark Turner, GMB Branch secretary, said 'The council's continuing filibustering on issues which could have been settled if management really wanted to, has resulted in our members having no other option than to vote as they have.
'We've tried everything possible to come to an agreement and of course the GMB are always happy for the council to come back to us, even at this late stage, with something to put on the table. The problem we have now is that members are so aggrieved with the situation and time wasting that they feel that they have no option but to take industrial action to be listened to and to get what's fair and right.'
Richard Bradley, head of Cityclean and parks, said: 'I am of course disappointed that the GMB Union has given formal notice of industrial action. This will inevitably cause problems on rounds in the city and I really recognise how difficult this is for residents who have already put up with many weeks and months of disruption.
'The council now has an allowances systems which is fair and equitable across the whole organisation. We have asked the trade union to postpone action and are keen to keep discussions going to try to avoid this action if at all possible.'
Photo: Paul prescott/Shutterstock.com