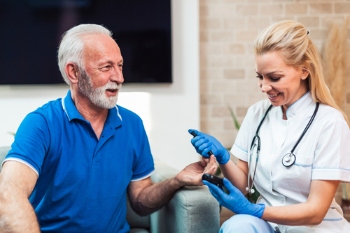 Homecare providers are warning that they are having to refuse new requests for home care because of Omicron and ongoing staffing problems.
A new survey from the National Care Forum (NCF) found that 66% of the homecare providers who responded are now having to refuse new requests for home care.
Over 40% of these providers reported having to close to new admissions and 21% of providers of home care are handing back existing care packages.
The NCF's poll, which had responses from not-for-profit organisations who support over 130,000 people, operate 5,250 services and employ 98,000 staff, reveals the impact that the latest coronavirus variant has had on care services that are also struggling to recruit and retain staff.
The providers who responded to the survey reported an 18% vacancy rate and a 14% absence rate as a result of the Omicron variant. Acknowledging that the absence rate may be temporary, the NCF said the vacancy rate was compounded by policy decisions such as mandating vaccines as a condition of deployment.
'It is unacceptable that yet again, nearly two years on from the start of the pandemic, we continue to see enormous pressures in the care and support sector, this time compounded by the impact of Omicron,' said NCF CEO Vic Rayner.
'Staff shortages are excessively high and everything must be done to support providers to operate safe and quality services, so that people have access to the care and support they need, when they need it.'
'The adoption of a strategy by Government that gives social care the crumbs from the table in an unrealistic hope that somehow it can continue to operate regardless of meaningful attention is negligent,' he continued.
'The NCF and our membership have been highlighting the growing shortages in the workforce and the knock-on impact on those who remain working in the sector and those who use care and support services for many months. How many times does this message need to be repeated for it to be heard?'
Image: hedgehog94/Shutterstock.com