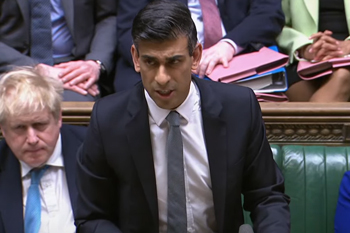 Local authorities set to benefit from a multi-million-pound boost to the household support fund to support hard-pressed residents, says Chancellor Rishi Sunak in the Spring Statement.
The Chancellor's update of the public finances was made against the challenging background of a cost of living crisis and increased pressures arising from the war in Ukraine.
Mr Sunak announced that the Household Support Fund would 'double' from £500m to £1bn because local authorities are 'best placed to help those in their local areas' with the cost of living crisis.
The Local Government Association (LGA) welcomed the extra funding, but warned that it was only a 'short-term' measure.
The Chancellor also announced that the Government will raise the threshold for the amount people earn before they pay National Insurance.
'From this July, people will be able to earn £12,570 a year without paying a single penny of income tax or National Insurance,' he said. 'That's a £6bn personal tax cut for 30 million people across the United Kingdom.
'A tax cut for employees worth over £330 a year.'
Other measures announced today, included a fuel duty cut of 5p per litre, which will be in place until March next year. VAT on materials designed to improve the energy efficiency of homes will also be scrapped.
Mr Sunak concluded by announcing that before the end of Parliament in 2024, 'for the first time in 16 years', the basic rate of income tax will be cut from 20p to 19p in the pound.
'A tax cut for workers, for pensioners, for savers. A £5bn tax cut for over 30 million people.'
Responding to the Chancellor's statement, Cllr Shaun Davies, chair of the Local Government Association's (LGA) Resources Board commented: 'We are pleased the Government is providing a further £500m for councils to continue to provide targeted local welfare support to low-income households facing financial hardship in their communities. Councils will need maximum flexibility and quick details on allocations, so they can ensure this funding reaches those in need and can be used to prevent families from reaching crisis point in the first place.
'The increase in short-term government funding through the Household Support Fund is a positive step but cannot on its own address underlying cost-of-living pressures, or to help people to make the most of their money and strengthen financial resilience.
'With many households likely to be economically vulnerable for some time to come, councils also want to work with government on an effective long-term solution to preventing poverty and disadvantage that moves away from providing crisis support towards improving life chances.'